Standard Solar completes 611-kW system for special education school in New Jersey
A New Jersey school serving the needs of special education students has completed an infrastructure project that includes a roof restoration, a newly paved parking lot, and a rooftop solar installation and a solar carport. This versatile project was made possible by: The Center School through an innovative partnership with Standard solar energy.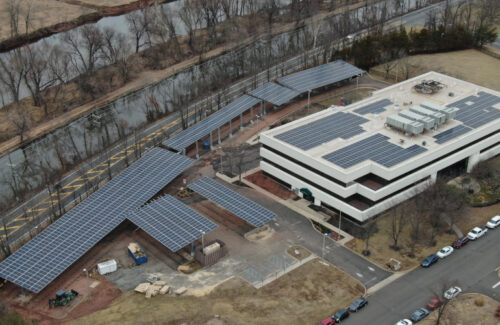 "The Center School wanted to reduce its carbon footprint and set a positive example of environmental stewardship for its students and the community, but its annual budget was fully committed, making it financially challenging to provide a new roof and parking lot for the school," explains Daryl Pilon, Director of Business Development, Standard Solar. "We were able to work with them to fund all the improvement projects they had planned using the solar project, including adding solar power to their roof and parking lot."
A PPA with Standard Solar covered the costs of the solar project, roof restoration and parking lot paving. The 611 kW combination roof and carport project is expected to save the school at least $30,000 annually. Standard Solar owns and will operate and maintain the solar roof and canopy system for the PPA term.
"We just celebrated our school's 50th anniversary last school year while construction was underway," said Dr. Ronald P. Rinaldi, Executive Director of The Center School. "The timing of our initiative to teach positive environmental stewardship to our students and our community, as we plan for another 50 years, was perfect. Our local council, the Franklin Township Environmental Commission, has even awarded our school the 2021 Environmental Stewardship Award for this project."
"As a leader in our industry, it's vital that we support solar projects of all shapes and sizes and be creative with how we realize projects for our partners," said Pilon. "We are excited to partner with The Center School to fund solar and infrastructure upgrades so they can generate power from a sustainable renewable energy source and benefit from cheaper, clean power for years to come."
For 50 years, The Center School has served the needs of special education students in New Jersey.
News from Standard Solar