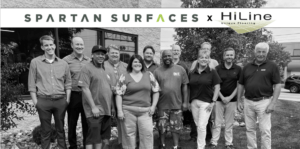 Spartan Surfaces acquires HiLine Inc.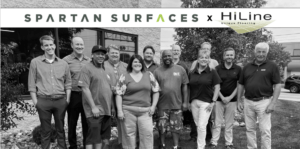 Bel Air, Md.—Spartan Surfaces acquired HiLine Inc. effective September 30, 2022. HiLine, based in Minneapolis, covers Minnesota, Wisconsin, Dakotas, Iowa, and Nebraska. Spartan welcomes the HiLine team and adds warehouse, sales and support staff to its Midwest operations.
Since 1979, HiLine Inc. has been serving. the flooring trade as well as commercial specifiers and end users. The company said its mission is to partner with top suppliers to provide the best solutions and service to its customers.
Terry Hermanson and Brian Prevost took over the day-to-day operations in 2016. "HiLine Inc. and Spartan have built their business with a focus on the commercial market," said Prevost. "We understand customer needs, we have earned their trust and trust us to recommend the right products."
According to Hermanson, the acquisition of Spartan enables the company to offer its customers an unparalleled experience. "New products, price advantages and superior logistics make this a very exciting venture."
According to Mike Blaskek, Spartan's vice president of sales, it's rare to find an organization that has warehousing and logistics and also knows how to engage high-level commercial specifiers. "HiLine has a balanced approach to the market; they appeal to the A&D community as much as serving the floor contractor," said Blaskek. "Terry and Brian's team have built a great business, adding our Spartan fuel will make this area burn even brighter. "