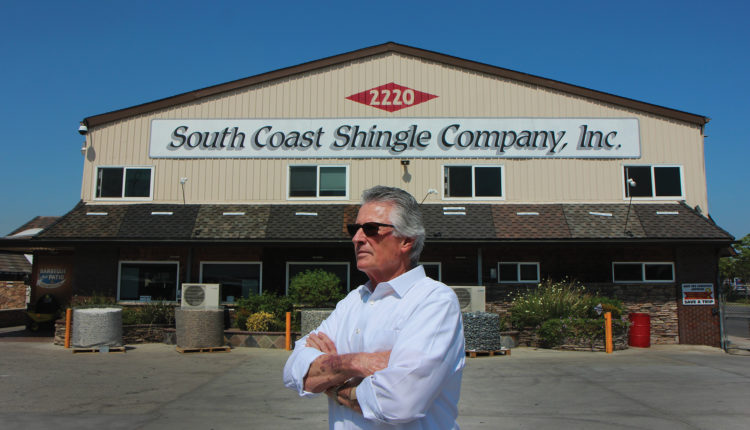 South Coast Shingle Co. celebrates 75 years in Long Beach thanks to 'good customers and faithful employees'
For decades, the South Coast Shingle Company has been a family affair. A few years after the company was founded in 1946, Sam Riddle joined as a bookkeeper. At the time, the roofing materials supplier was located on 11th Street near Redondo Avenue.
The company outgrew that facility and moved to its current home in North Long Beach on South Street near Cherry Avenue in 1963.
"This was in the boondocks back then, all the oil properties," said Ross Riddle, 72, Sam's son and now president and CEO of South Coast Shingle.
Ross and his brother Larry, 68, grew up in the business, working with their father on Saturdays and helping out in the yard. In 1968, while attending Long Beach City College and then Cal State Long Beach — eventually earning a bachelor's degree in business management — Ross joined the South Coast team as a full-time employee.
Larry came on board nine years later and is now CFO.
South Coast Shingle sells all things roofing and masonry to contractors and homeowners. Hundreds of choices of shingles and tiles, bricks, stone, gravel and the accessories needed for the job, from protective gear to ladders and shovels.
The company is aimed at homeowners, who make up about two-thirds of the business, Ross said, because seasoned roofers and commercial project managers already know what they're looking for. The store is open to the public so they can get one-on-one help to learn about more options than a roofing company would usually present to them at home.
"A roofer doesn't have time to sit down with a homeowner and tell them all the different options. There might be something [the owner] really like them, but would never know," Ross said. "We guide them through the process, we spend time with them, consult with them and it costs them nothing."
When a homeowner decides which roof they want, the South Coast Shingle team can recommend trusted roofing companies to do the installation (and removal, if necessary). Once the work is ready to begin, the South Coast crews deliver the materials using special trucks with conveyor belts that allow them to be unloaded directly onto the roofs of houses and other buildings.
With a second location in Laguna Niguel, the company serves all counties of LA and Orange, as well as the Inland Empire, Ross said. Most of the South Coast's operations are within 50 miles of the stores, he said, but the company will go as far as necessary.
Combined, the two locations have approximately 25 employees and more than 20 heavy machinery, from large trucks to forklifts.
The Laguna Niguel location is managed by Larry's son Brandon, one of two of his sons who work for the company. Outside of the immediate family, many South Coast Shingle employees have worked for the company for decades.
Jimmy Killeen, 56, has been with the company for 38 years. Before working for South Coast, Killeen said he made pizza and attended Long Beach City College. When he dropped out of school, he said his brother, a roofer, told him it was time he got a "real job" and introduced him to Ross.
In the beginning, Killeen swept the yard and did menial jobs. He worked his way up to a driver and then was a site supervisor for about 15 years. Now, after a stint in sales, Killeen is the general manager of the Long Beach store.
"These guys are my family," Killeen said. "They are loyal employers and would give you the shirt off their backs if you needed it."
Challenges have arisen for the company over the years, Ross said. Namely competition in the form of national companies. He said three companies dominate the roofing market, often buying up independent stores like his. These companies have offered to buy South Coast Shingle, but Ross said he is not interested.
"The industry is great," Killeen said. "It's getting harder and harder, just like everything else, but we love it."
Years ago, before businesses and big stores moved to Long Beach, South Coast Shingle was one of the top 10 taxpayers in the city, Ross said. South Coast, a $30 million company, is still thriving today.
"It feels really good," Ross said of the company entering its 75th year. "We are pleased to be as successful as we have been and we owe it to our good customers and loyal employees."