SolidTech featured in Sunshine on a Ranney Day makeover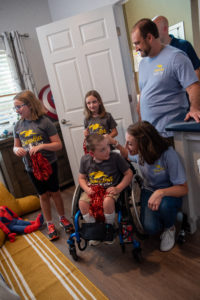 Calhoun, Georgia – Sunshine on a Ranney Day – an Atlanta-based nonprofit that reinvents and builds custom rooms for children with special needs – selected SolidTech for the latest bedroom makeover for five-year-old Joseph.
"Mohawk's generosity has helped make the dream we have for these kids come true," said Joe Lane, executive director of Sunshine on a Ranney Day. "Floors can make or break a space, and we are grateful that Mohawk helped us complete these remodeling projects with quality products that will make the families' lives easier."
Joseph was born prematurely with an open hole in his spine, leading to more than 70 days in the NICU. Since then, he has had 10 different surgeries, multiple hospital stays and several doctor's appointments followed by numerous tests. Like many children with spina bifida, Joseph developed hydrocephalus, a condition in which fluid builds up in the brain and causes damage.
"We have been a partner of Sunshine on a Ranney Day since 2013, providing stylish and durable flooring, such as SolidTech, for a variety of room renovations," said Adam Ward, vice president of product management, Resilient. "It's important for us to be a part of this rebuild for Joseph, who is brave beyond his age, because something as simple as a narrow doorway can keep him from moving around. We are honored to deliver worry-free floors that will help him gain independence while complementing the makeover of his dream bedroom."
Despite the effects of hydrocephalus and an underdeveloped cerebellum, Joseph grew up to be a smart, humane five-year-old boy. As a superhero in his own right, Joseph has overcome many obstacles in his developmental growth and now he can only eat and only needs oxygen at night. Joseph, who was once non-verbal, loves meeting new people and takes pride in using his strong memory to recite his favorite historical stories and talk about his heroes.
Joseph's bedroom features SolidTech Founder Trace in Burnt Sienna. Combining the beauty of hardwood and the waterproof durability of luxury vinyl flooring, SolidTech offers 100% waterproof performance, stain and most importantly, scratch protection and dent resistance to withstand any wheelchair trick Joseph wants to show.