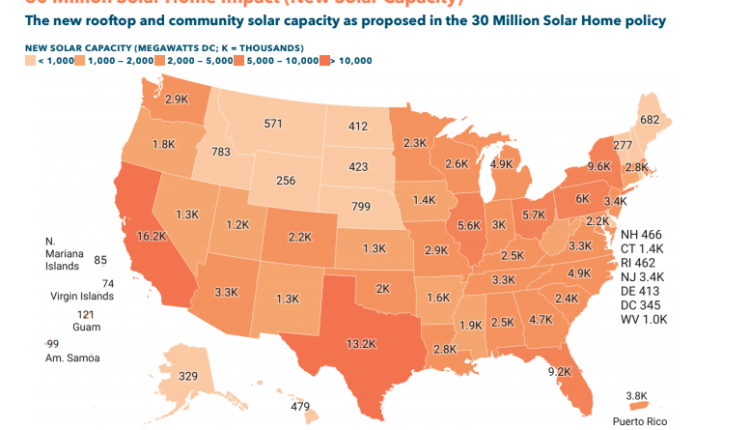 Solar United Neighbors report makes the case for prioritizing local rooftop solar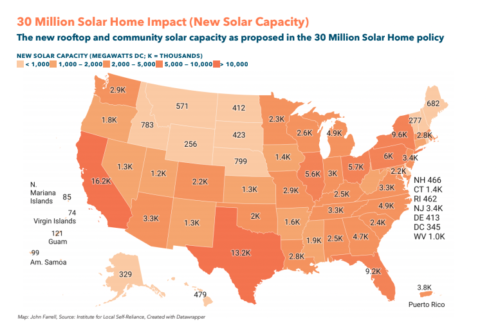 A new report by Solar United Neighbors and other groups found that deploying distributed solar power to the equivalent of 30 million American homes would provide significant job creation and economic benefits while addressing climate change and reducing racial and income inequality. By establishing policies to support the goal of 30 million homes, the report concludes that federal policymakers could create 1.77 million new jobs over the next five years and lead to $69 billion in energy savings. The Initiative for Energy Justice, Institute for Local Self-Reliance and Solar United Neighbors developed the report as part of the 30 Million Solar Homes campaign.
The decision between prioritizing more local, rooftop solar or more large-scale systems and new transmission lines is: on the front in Washington, DC, as policymakers explore how to achieve President Biden's ambitious renewable energy goals.
The report builds on policy recommendations the groups developed to reach the target of 30 million solar homes. The report provides both state and congressional district-level data detailing the economic and environmental benefits of these recommendations, and a map illustrating these benefits in each state and congressional district.
In addition, the report found that establishing the policy for 30 million solar panels:
Eliminate air pollution from global warming, which is equivalent to closing 48 coal plants or taking 42 million cars off the road for a year.
Increase national new solar capacity by 151 GW.
Power 20 million households in marginalized communities with local solar energy.
There is already broad support for this campaign. More than 330 energy equality, climate, business, environment, faith and public health organizations signed a letter to Congress urging the approval of these recommendations.
"Encouraging local solar on rooftops and communities is the best way to bring the economic benefits of federal clean energy investments to all Americans," said John Farrell of the Institute for Local Self-Reliance Co-Director. "It creates several times as many jobs per million dollars of investment as utility-scale solar. It opens up more opportunities for local entrepreneurs to start small businesses or for families to reduce and stabilize energy costs."
At the heart of 30 Million Solar Homes is rapidly and massively scaling programs that help low-income families take advantage of solar energy. The federal government spends billions of dollars each year to help families pay for their energy costs, but this approach serves less than 20% of the eligible population. Financing rooftop and community solar access to these households would provide long-term financial relief and reduce the need for annual help with energy bills. A majority of the plan's investment is earmarked for marginalized communities.
"Americans of all political affiliations support solar energy," said Anya Schoolman, executive director of Solar United Neighbors. "It's one of the few things that unites people, regardless of where they live or political affiliation. People want to power their homes with solar energy. All we need is the political will to make it happen."
The proposal calls for additional funding for energy assistance programs such as the Low-Income Home Energy Assistance Program (LIHEAP) and the Weatherization Assistance Program (WAP). This will increase the energy bill that these programs already provide, while also allowing the programs to expand access to solar energy.
"Congress and the government want to take action on climate change, how they act is important," said Subin DeVar, co-founder of the Energy Justice Initiative. "The 30 Million Solar Homes Program prioritizes widespread economic, financial and employment benefits of climate action. It does this by focusing on rooftop solar and communities and prioritizing marginalized communities."
In the coming months, the 30 Million Solar Homes campaign will educate lawmakers and the Biden-Harris Administration about the benefits of distributed solar and the policies that can bring America to 30 Million Solar Homes.
News from Solar United Neighbors