Solar sales company learns how to make a difference during the pandemic
The decision to start a business at the height of the coronavirus pandemic in 2020 would be seen as questionable in any industry. Quarantines and closures forced many households to rethink which purchases and services were essential for survival. But that may have been an unintended positive for the solar industry.
"Despite what happened, it was the best year we could have had in business terms," said Jarret Sherrard, owner of Solar Pro roofing (no. 348 on the list of best solar contractors of 2022)who officially put an LLC behind its solar energy sales efforts in 2020.
Sherrard has been working in the solar industry for nearly a decade, gaining experience with national brands before taking up solar sales as a solo act in 2018.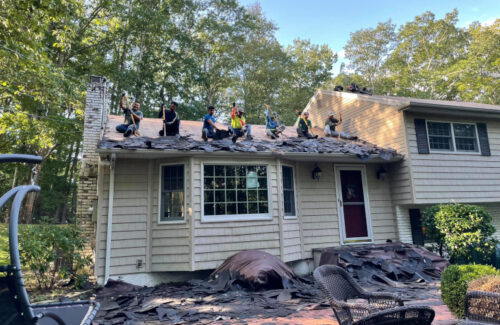 "I immediately started working with solar installers. I didn't have a single installer exclusivity because when I met a client I realized that not every company is the best fit for everyone. It really depends on what someone wants, what's available, their interests," he said. "When I met someone, instead of pushing them down their throats, an option I had to convince was the best because it's all I have to offer, I wanted to give them the best solution for them."
When COVID-19 hit in 2020, Sherrard was showered with sales requests from New Yorkers now concerned with energy independence and increased electricity consumption at home. He decided it was time to turn his sales efforts into a 'real business'. Solar Pro roofing officially born.
The "roofing" part of the company name comes from Sherrard, who finds that many solar customers are also in dire need of a new roof. Instead of customers getting solar and paying separately for a new roof, Solar Pro Roofing began marketing a new roof with a solar system as one project eligible for one monthly payment.
"That became our mission — instead of being a solar company offering roofing, we wanted to become a roofing company offering solar," Sherrard said. Its focus on roofing opened the company to customers seeking help with solar re-installation when they needed to replace an aging roof under an existing solar panel.
"It really created a wonderful niche that gave us a lot more business than just targeting people who want to save on their electric bills," Sherrard said.
At present, Solar Pro Roofing operates solely as a sales company with seven full-time employees. Sherrard said he would eventually like to have in-house installation services, but the focus today is connecting clients with high-quality contractors in New York, New Jersey and Connecticut.
"I really want us to be a full roofing company that can do solar. Hopefully it never comes, but when solar becomes so regular that the opportunities diminish, we still want to be able to help people modify their homes," he said .
Working in New York City's hard-hit COVID hotspot gave Sherrard a greater desire to look out for community members and make sure they were making the best decisions when it came to their energy bills. One solar + roof installation Solar Pro Roofing set up in 2020 was for an essential hospital worker and the company gave all the commission on the sale to the customer. Sherrard said everyone was having a hard time, so it was nice to reward someone for working in an environment that many people would find impossible at the time.
Solar Pro Roofing wants solar energy and roofing to be seen only as a positive experience.
"Our little motto is 'sun should never be in shadow'," he said. "There are many great companies. There are also many inexperienced people who push solar energy without revealing the truth. We will have the hard conversations with people even if it loses [us] a chance. We want to make sure we're doing it the right way and exactly the way it should be to eliminate future problems rather than monetizing the situation and making a customer unhappy or getting a headache that we could have avoided."
---
This story was featured exclusively in our issue 2022 Top Solar Contractors. Check out the issue and full list of best solar installers in the US here.