Solar Power World's Most Forward-Thinking Contractor brings tech-first approach to customer service and sales
The Most Progressive Contractor Award recognizes solar installers who are committed to advances in energy and beyond in the hope of a more sustainable future.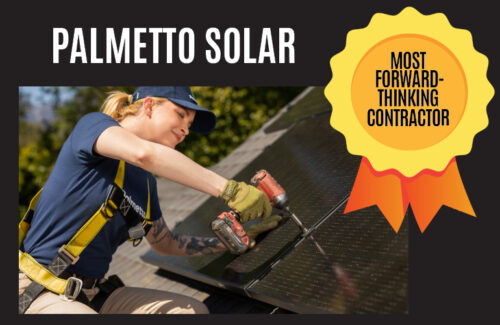 "Palmetto is excited to share how we are using a forward-thinking strategy to build a best-in-class consumer experience and a price that delivers meaningful savings. Our mission is to remove the barriers to growth for all clean energy companies and prove an operational platform for growth and transparency. By making clean energy more accessible to consumers, we are honored to be recognized as a finalist for the 2022 Most Forward-Thinking Company award as it really helps validate our model and boost our team's morale."
– Chris Kemper, Founder & CEO
Gigawatts of solar photovoltaic power come online in the United States every year, but it will be several more years before the technology becomes the standard for domestic energy production. To account for solar growing pains, contractors are taking extra steps to make the process easier for customers – contractors like South Carolina's Palmetto Solarwhich developed a digital platform that covers every step of solar installation, from sales pitch to permission to work.
Design and sales software is often used by solar panel installers. What sets Palmetto's platform apart is its own offering. The company describes itself as "tech-first," with solar support for customers, sales and business partners, and installers remaining fully digital, with efforts beyond day-to-day processes to anticipate a growing solar market.
One of Palmetto's developments beyond basic sales and design was software that mapped the solar potential for 84% of buildings in the United States. Using proprietary energy intelligence data and MIT-licensed algorithms, Palmetto developers were able to model buildings and determine their solar friendliness.
Another digital offering from the contractor is GLIDE (Geospatial Local Intelligence Data Engine), a database of relevant information across regions, utilities, jurisdictions, service areas, and supply and distribution centers. GLIDE is available for Palmetto's residential installation network to assist with the sales process. To make navigating with GLIDE easier, Palmetto developed Atlas, which uses that data and presents it geographically to users.
These programs on the Palmetto platform are offered to consumers and installation, sales and business partners. Through its sales platform, design software and network of financing resources, the company strives for transparency in project costs and construction timelines, and aims to reduce costs for consumers trying to switch to solar energy.
---
The Solar Energy World Top Solar Contractors awards program is part of our annual Top Solar Contractors list.