Solar Landscape begins 6.5-MW community solar portfolio on New Jersey storage facilities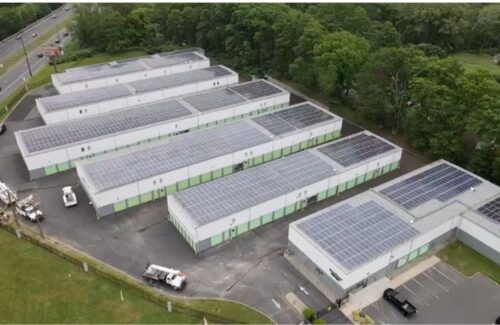 Solar Landscape has announced it has completed construction on the first of 46 community solar projects approved by the New Jersey Board of Public Utilities (NJBPU) in Year 2 of the Community Solar Energy Pilot program.
New Jersey's first completed Year 2 project is at an Extra Space Storage site in Neptune, one of 10 sites owned by the company that hosts community solar Year 2 projects with Solar Landscape. The total solar portfolio of 6.5 MW for the community of Extra Space Storage will cover 800,000 square feet of rooftop solar that will power more than 1,400 homes in the area.
"We are excited to be involved in this community solar project. At Extra Space Storage, we have been equipping our sites with solar energy for over a decade, and this new effort to bring solar energy to the local community is an exciting development," said McKall Morris, senior manager of communications and sustainability. "Partnering with Solar Landscape on this project aligns perfectly with our commitment to be good corporate citizens and participate in environmental initiatives that are positive for our communities, customers, employees and shareholders."
NJBPU's Community Solar Energy Pilot ProgramPart of Governor Murphy's clean energy agenda, it is expanding access to renewable energy for those who previously could not install solar panels for reasons such as high cost, lack of roof control or a shady property.
Neptune's community solar site will generate approximately 500 kW of power, while the other nine sites are located in New Jersey cities across seven counties:
Egg Harbor
Ho Ho Kus
Jersey City
Laurentius
to talk
Old bridge
Iselin
Neptune
Hazlet
Toms River
The diversity of these cities underscores the innovation of New Jersey's community solar program, which allows the commercial real estate industry to make a meaningful contribution to reducing carbon emissions by installing panels across the entire roof, not just the portion that meets the energy needs of the home. building covers. The program also empowers the commercial sector to play a role in increasing energy capacity by enabling community solar subscribers — the majority of whom are lower-income — to renovate their homes. renewable energy and participate in the fight against climate change.
News from Solar Landscape