'Solar generators' provide flexible backup power for less
Bells and whistles are great, but sometimes the basic model is all it takes for energy storage.
When solar customers and homeowners with energy problems are not interested in or unable to take advantage of tax shifting and demand arbitrage opportunities managed by energy storage systems, there are simpler products available today, just for emergency backup. Contractors no longer have to imagine a gas generator or a range of lead-acid batteries; many companies offer portable and high-performance lithium-ion systems that can support customers seeking peace of mind during a blackout.
Often referred to as "solar generators," this category of energy storage is usually marketed to on-the-go adventurers – those who camp, travel, work behind the grid and work off-grid. These battery systems have a lower capacity than stationary residential systems such as the Tesla Powerwall and LG RESU, but they are expandable for specific power needs. They can be charged by portable solar panels or from the electricity grid. Depending on the source of charging electricity, solar generators can be very clean. Best of all, they can be used to back up appliances and loads in the home for a fraction of the price of a stationary system.
Here are a few portable energy storage systems and solar generators that are increasingly being looked at for emergency backup in the home.
---
Goal Zero Yeti
Probably the most popular portable lithium battery system comes from Goal Zero. The companies Yeti 6000X Portable Power Station has an initial capacity of 6,071 kWh and uses NMC batteries with a lifespan of 500 cycles at 80% depth of discharge (DoD). Yeti 6000X has 2 kW continuous power and 3.5 kW peak power. The station has seven output ports, but it can also be connected to a home's electrical panel to support four essential circuits.
While the Yeti 6000X is the company's most powerful starter unit, Goal Zero offers many setups to meet different power needs. Customers only need one Goal Zero power station as a base, and then storage capacity can be expanded with cheaper lead-acid battery add-ons. Due to their size and weight, the lead acid batteries are stationary while the lithium power plant is portable. The Yeti Tank Expansion Batteries come in pairs for 2.4 kWh of additional power.
Not a particularly common setup, Goal Zero can combine lithium and lead-acid battery technologies through the Yeti Link Expansion Module – essentially an advanced battery management system.
"Our expansion vessel is a deep cycle lead-acid battery. This allows you to connect the electronics in the Yeti [lithium-based system] but expand the battery," said Bill Harmon, GM at Goal Zero. "You can add so many [lead-acid batteries] as you wish. The customer can simply plug them in. Suddenly you have the portability of the lithium battery and the cheap lead-acid batteries."
Harmon told Solar energy world that Goal Zero has recently seen an "almost even split" between customers buying Yeti systems for home backup versus outdoor recreation, but more than 70% say they plan to use the systems for both purposes.
"Our system is for all the people in the country who don't have $15,000 to spend on an energy storage facility. And then when I'm done, I'll just have something permanently installed in my house," Harmon said. "Yeti is for those who are sensitive to what they spend money on."
The Yeti 6000X is advertised online for under $6,000, with each two-battery lead-acid extension costing less than $1,300.
---
Renogy Lycan 5000
Renogy, a supplier of energy products for the do-it-yourself crowd, has the Lycan 5000 Power Box in 2021, a 4.8 kWh lithium battery system designed specifically for emergencies, power outages and off-grid homes. Lycan can be expanded to 19.2 kWh and the LFP batteries have a life of 4500 cycles at 80% DoD. With the help of a licensed electrician, Lycan can be connected to a building's main electrical panel.
Renogy representatives told Solar energy world that while Lycan is a portable unit (it is attached to wheels and is suitable for outdoor use), most customers only use it for emergency backup.
"Most customers use Lycan as their source of solar power generator," said the representative. "When used in home settings, customers are installing a sub-panel to route some of their home appliances to Lycan rather than through the utility grid."
The 4.8 kWh unit has a continuous power of 3.5 kW and a peak power of up to 7 kW, with sockets directly on the system. It is equipped with circuit breakers and surge protectors.
An added benefit of the Lycan: no permit is required to install if used for a completely off-grid situation.
The system is advertised online for less than $5,200.
---
Bluetti EP500
Bluetti, an off-grid power solutions company, has a range of solar generators and its own portable home battery backup system. The Bluetti EP500 Solar Power Station is a 5.1 kWh system on wheels and the LFP batteries have a life of 3500 cycles at 80% DoD. Two units can be connected for a capacity of up to 10.2 kWh. An EP500 has a continuous power of 2 kW with a peak of 4.8 kW.
A qualified electrician can connect the EP500 to a building's main electrical box via the Bluetti sub-panel.
Part of the owner's manual does show how rooftop solar panels can charge the station, as long as they don't use microinverters. EP500 comes with its own sine wave inverter so panel level inversion would not work with the system.
The system is advertised online for less than $4,600.
---
Growatt Infinity 1500
Growatt, a company best known for its residential inverter line, also has a portable power system with 12 outlets. The Infinity 1500 has an initial capacity of 1,554 kWh, but can be expanded to three units for a total storage capacity of 4,662 kWh. The NMC batteries have a life of 800 cycles at 60% DoD. Infinity 1500 has a nominal power of 2 kW continuous power with a peak of 4 kW.
In addition to grid and solar charging options, Growatt has the option to charge the Infinity 1500 via an EV charging station.
Infinity 1500 is currently only available in the United States, but Growatt has not yet started shipping the product. No pricing information is listed at this time.
---
Ford F-150 Lightning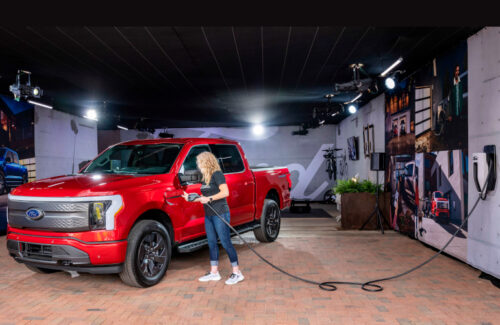 Perhaps one of the more interesting "portable" lithium battery systems to hit the market recently is the 131 kWh battery in the new all-electric Ford F-150 Lightning truck. Using a bi-directional charger, the truck's large battery can provide three full days of emergency backup, based on average home usage.
The F-150 Lightning hit the road in the summer, with solar installer Sunrun working as the installer of choice for its home charging solutions. California utility PG&E is testing the bi-directional charging capabilities of Ford Intelligent Backup Power as on-demand power sources for homes.
Sunrun public relations senior manager Wyatt Semanek said it's too early to know if customers will buy the Ford F-150 Lightning for emergency backup, but he did say initial order data suggests consumers would like to use the two-way charger at home.
"Its size — about 10 Powerwalls — and battery capacity, plus the utility of a truck, make it a very attractive alternative for backup," Semanek said.
With the successful operation of Ford's Intelligent Backup Power system, it could more quickly open the door to other two-way charging efforts from companies such as wall box and Emporia, leading to more EVs being used as standby backup power.
---