Solar decommissioning guide aims to help cities minimize long-term risks, community concerns
The Weldon Cooper Center for Public Service at the University of Virginia has a policy plan on planning and paying for the decommissioning of solar installations, filling a critical information gap as the clean energy industry in the Commonwealth is rapidly accelerating.
Large and utilitarian-scale solar installations are a fast-growing source of electricity in Virginia and an important part of the Commonwealth's decarbonization strategy. National data indicates that as of June 2022, at least 62 solar installations are producing power in Virginia, with numerous other projects under construction or under consideration. Solar energy is currently the cheapest source of Virginia's electricity supply and now generates more power than coal.
But on the other side of the solar boom comes a time when some of the current facilities will retire in about 30 years and stakeholders will have to make more and more plans to eventually remove them.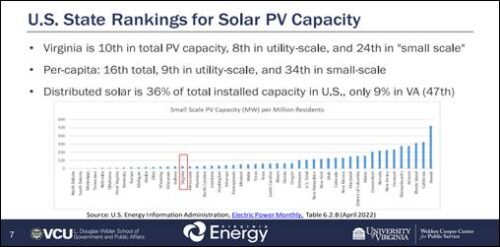 In its 60-page report, the Cooper Center provides advice on the legal, regulatory and financial framework for decommissioning solar installations, filling a resource gap revealed in its report. Virginia Solar Survey earlier this year, who found the issue among the top five topics of interest to places when it comes to solar energy development.
"Locations have expressed a need for more decommissioning information to feel comfortable that they are protecting the financial and environmental interests of the community when approving large-scale solar installations," said Elizabeth Marshall, senior coordinator of the Virginia Solar Initiative. from the Cooper Center. . "To date there has been very little extensive research or advice on this topic, and almost nothing specific to Virginia. This is certainly of interest to solar developers, municipalities and stakeholders across the state."
Marshall added that other states that don't have decommissioning guidelines yet may find the report a good model that can be modified as needed.
Decommissioning a solar field by removing the solar panels and supporting structures is a relatively simple process, but can cost more than $1 million. When allowing a large solar installation, places generally require financial security that the installation company will pay for the final removal.
"Choosing the most appropriate form of financial security can be a challenging decision for places as it has important implications for the construction and financing of the solar project," said Irene Cox of the Cooper Center and the report's author. "We offer several options so that decommissioning is a manageable risk for places, but not an unnecessary burden for developers."
The report gathers information on state and local laws, recommendations from state and federal agencies, and different approaches in comparable markets to present an inventory of adaptable decommissioning best practices. For example, the report suggests that municipalities are considering adopting a decommissioning ordinance specifying options for financial security, land remediation conditions, and post-closure land use, among other things. Ultimately, the center's report can help protect the financial interests of municipalities, reduce unnecessary costs for developers and ensure that the land is left in good condition.
"Concerns about decommissioning costs can create unnecessary complications in permitting new solar installations," said William Shobe, director of the center's Energy Transition Initiative. "Our new guide should help facilitate negotiations on facilities that can be a real asset to the local economy, as well as taxpayers across the state, while also helping to tackle climate change."
News release from the University of Virginia