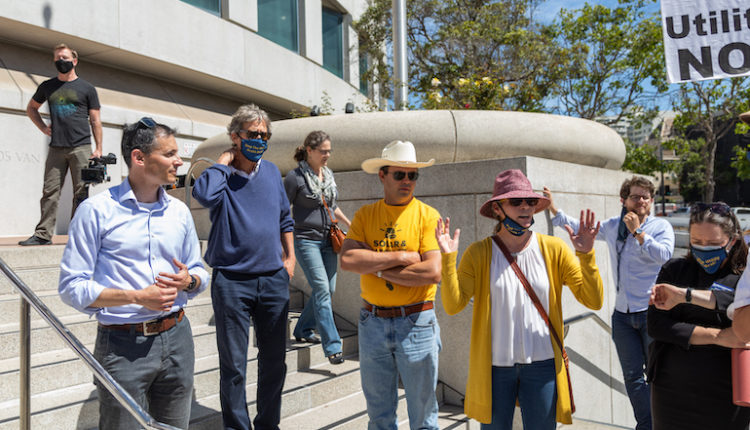 Solar advocates protest utility net-metering proposals at California Public Utility Commission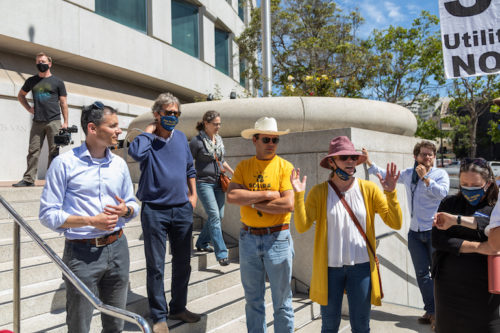 Clean energy proponents, environmental groups, solar consumers and corporations — who just defeated AB 1139 in the state legislature — are fighting back against the utility's ongoing major "profit grab" that aims to make rooftop solar more expensive, consumers harm and clean energy progress. They gathered at the California Public Utilities Commission (CPUC) to call on state leaders to keep solar energy affordable and growing in California as Newsom's government considers grid metering changes. Following the event, supporters filed more than 30,000 petitions against utility companies' proposed changes to grid metering at CPUC headquarters.
"Our coalition of solar consumers and clean energy activists did the unexpected and shut down a bill in Sacramento, powered by major utilities and some of the state's most powerful interests," said Dave Rosenfeld, executive director of the Solar Rights Alliance. "As we turn our attention to this latest threat to affordable clean energy, the CPUC and Governor Newsom can expect to hear our voices in even greater volume."
Grid metering aims to put the benefits of rooftop solar in the hands of more people, and that's exactly what it does. Hundreds of thousands of families, renters, businesses, schools and others across California are saving money on their utility bills with rooftop solar. In fact, working and middle-class neighborhoods make up almost 50% of the current rooftop solar market. Rooftop solar helps all types of consumers reduce their energy bills and, when combined with storage, is the consumer's best defense against rising energy costs and unpredictable power outages. Not only that, many of the state's low-income solar programs rely on net metering to save vulnerable populations on bills.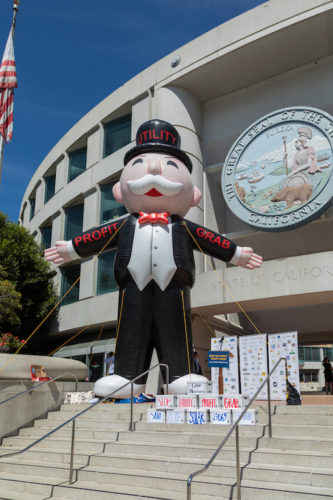 "What the major utilities are proposing would do nothing less than bring a halt to the rooftop solar industry, just as our economy and the need for clean energy demand it," said Bernadette Del Chiaro, executive director of the California Solar and Storage Association. "California Voters overwhelming support the growth of rooftop solar and resisting pressure from investor-owned utilities to increase their own profits by making solar more expensive for everyone."
As symbolized by the gigantic 30-foot-tall "Utility Profit Grab Man" stationed outside CPUC headquarters, the motive for large utilities is profit. PG&E and other utilities want to change the rules in their favor so they can take advantage of the energy generated by solar consumers and eliminate a growing competitor in the energy market.
"The real cost shift in California is the exorbitant amounts of taxpayers' money being stolen from local renewables to subsidize transmission lines – mainly benefiting the utilities, which make huge guaranteed profits from transmission spending," said Clean Coalition's Rosana Francescato . "Transmission costs are the fastest-growing component of electric bills in California, and deploying more solar on the roof has been shown to reduce these costs."
A host of environmental groups and solar supporters took part in the event, sharing the critical role rooftop solar plays in achieving California's clean energy goals.
"As a national leader in building electrification and climate equality, the City of Berkeley is counting on the governor and CPUC to make abundant and affordable access to rooftop solar a priority," said Berkeley mayor and president of Berkeley. the Association of Bay Area Governments. "This will ensure that our state continues to lead the nation in our shared goals for climate action and equality."
News from Save California Solar