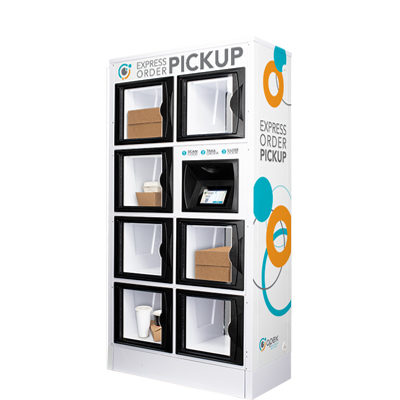 Smart lockers help plumbing and HVAC distributor unlock e-commerce potential
Like many companies, Ferguson, a wholesale distributor of plumbing and HVAC (heating, ventilation, and air-conditioning) supplies, is seeing an increase in omnichannel retailing as more of its customers place orders online and through its mobile app in addition to the traditional methods, such as in person and over the phone.
To meet the growing number of customers who want to collect online and telephone orders from one of its stores, Ferguson has implemented a solution originally used to manage mobile devices in its DCs: smart lockers.
Within its 10 regional distribution centers, Ferguson uses smart lockers from Apex Supply Chain Technologies for storing mobile devices, such as radio frequency (RF) scanners, voice pickers and hip printers, according to Chris Everett, Ferguson's director of supply chain strategy. For each shift, DC employees enter their personal code to view the devices they need that day. At the end of their shift, they simply check the devices in the lockers again.
The new system has come a long way toward streamlining the retrieval process, company executives say. "[Before implementing the lockers,] we spent huge amounts of money on RF devices, voice devices and tablets, and we not only had no control over the assets, but we also had [lacked] a good mechanism for assigning the devices to people," explains Everett. "Now employees entering our DCs can really quickly grab their device and get on with their day. Those seconds add up to minutes, those add up to hours, those at the end of the day add up to [a lot of] money."
FASTER PICK UP
Working with Apex, Ferguson began exploring the idea of ​​adapting the system it uses for DC employee contactless asset retrieval for customer order pick-ups.
All of Ferguson's 1,400 field locations have a 'will call' counter, where customers can come in to collect items ordered online or over the phone. Ferguson believed that by using smart lockers, the company could reduce the waiting time at the call counters while extending the time frame for collections.
However, it was not as simple as installing the same lockers at retail locations. Ferguson's products come in a wide variety of sizes and shapes – everything from faucets to water heaters to 10-foot lengths of copper pipe. To accommodate the larger items, Apex has adapted its smart lockers into "smart cages" that offer more capacity.
Now, when customers place an order, they will receive a QR (quick response) code that they can use to open the cage or locker and pick up their merchandise. According to business leaders, this new process is not only more efficient but also more flexible, as it allows customers to collect products outside of Ferguson's normal business hours.
"It allows our customers to access our broad and deep inventory 24 hours a day, seven days a week," said Everett.