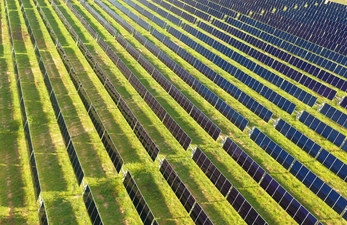 Silicon Ranch completes 6th solar project supporting Meta data centers
Walton Electric Membership Corporation (EMC), a consumer-owned utility, and Silicon Ranch, an independent power producer, has completed three new utility-scale solar installations to support Meta (formerly the Facebook company) operations in Georgia.
More than 1,200 people, the majority of whom were hired from the local region and the military veteran community, completed the facilities on schedule. The three projects total 287 MWAC of solar generation and are located in three different southern counties in the state.
"In 2018, Meta, Morgan Stanley and Walton EMC came together to design a groundbreaking energy supply agreement for Meta's Newton Data Center, and for the past three years we've worked shoulder-to-shoulder with Silicon Ranch to deliver on the commitments we've made. . said Ronnie Lee, CEO of Walton EMC. "The past two years in particular have presented unprecedented challenges, including a pandemic and severe disruptions to the global supply chain, so on behalf of our Board of Directors and the entire team at Walton EMC, I would like to express our sincere appreciation to Silicon Ranch for their steadfastness commitment to deliver these world-class facilities right on time."
Walton EMC and Silicon Ranch have now completed six projects totaling 435 MWAC to serve Meta's Georgia operations, and has recently begun construction of a seventh facility.
Silicon Ranch funded the construction and will own, operate and maintain the arrays. Silicon Ranch partnered with IEA every 100 MW . buildAC Lumpkin Solar Farm, located in Stewart County and McCarthy Building Cos. every 80 MW . buildAC Lancaster Solar Farm in Colquitt County and the 107-MWAC Snipesville II Solar Farm in Jeff Davis County.
"Silicon Ranch is honored by the confidence that Walton EMC and Meta continue to place in our company to perform on their behalf, and we thank all the men and women at IEA, McCarthy and Georgia Transmission Corporation who have supported our efforts and helped us. continue this important economic development work in the state of Georgia," said Reagan Farr, co-founder and CEO of Silicon Ranch.
The solar installations are part of an ongoing partnership between Walton EMC and Silicon Ranch to provide 100% renewable energy for Meta's data center in Newton County, Georgia.
With the first six solar projects now in commercial operation, Silicon Ranch has begun construction on the partners' seventh joint project, the DeSoto I Solar Farm, a 125 MWAC facility in Lee County. Walton EMC and Silicon Ranch broke ground on the facility in October and plan to hire more than 400 craftsmen to build the project by the end of 2022.
"We are excited that these new solar projects are now online and will help us continue to achieve our goal of powering our Newton County data center with 100% energy," said Urvi Parekh, Head of Renewable Energy at Meta. "We thank Silicon Ranch and Walton EMC for their continued collaboration, for their commitment to successful execution, and for sharing our commitment to positively impact the communities we live in."
News report from Silicon Ranch