Siemens AG signs agreement to procure Gamesa Electric central inverters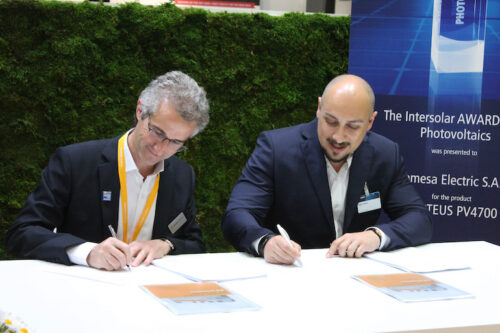 Siemens AG has signed a strategic partnership agreement with Gamesa Electric to use Gamesa Proteus central inverters for PV and energy storage projects.
The agreement between the two companies has global reach and will supply equipment internationally from Gamesa Electric's factories around the world, and will have an expected volume of GW scale per year. Under this agreement, Siemens will be able to deliver its integrated solutions for solar and storage projects with Gamesa Electric Proteus inverters for PV and BESS projects, central inverters characterized by their high power output of up to 4700 kVA and a record efficiency of 99.45%.
The Gamesa Electric Proteus inverter was recognized in Munich as the best PV product of the year with the Intersolar Award 2022.
"We are delighted to have added a technologically advanced product with the best performance on the market to our portfolio," said Ergys Frasheri, Global Head of PV at Siemens AG.
News from Gamesa