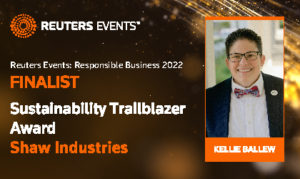 Shaw's Ballew named finalist for Reuters awards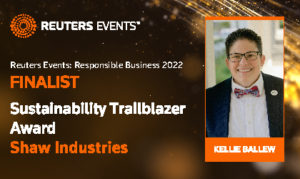 Kellie Ballew of Dalton-Shaw Industries, vice president of global sustainability and innovation, has been named a finalist for the Reuters Events Responsible Business Awards 2022 in the Sustainability Trailblazer category. The Award goes to an outstanding business leader who has shown inspiring, motivating and passionate leadership to his team, company or sector, and has a clear commitment to long-term impact.
Ballew has provided ample examples of driving innovation, manufacturing excellence and collaboration throughout her 25-year career at Shaw, the company said. Sentiments shared by Shaw President & CEO, Tim Baucom, highlight the impact of her strategic influence within Shaw and beyond. "By leveraging market insights and deep technical expertise, Kellie Ballew serves as an internal consultant and subject matter expert to the company – ensuring that our sustainability strategy helps Shaw create a better future and a better world – a world in which we collectively value and investing in the health, well-being and success of all people and our planet."
Baucom adds: "Her ability to properly assess trends, opportunities and risks for the business and develop a path forward with cross-functional collaboration is invaluable. And her influence extends far beyond Shaw. Kellie has been recognized locally, nationally and internationally for her contributions. She is a much sought-after advisor and speaker. Her keen ability to relate to a wide range of audiences and convey an easy-to-understand sustainability message is impressive and paramount to her success – and to Shaw's success in general."
Among Ballew's many achievements, she holds multiple patents around the world, invented sustainable manufacturing processes, and contributed significantly to Shaw's sustainable manufacturing in China.
She was a key part of the development team for Shaw's EcoWorx carpet tile, a PVC-free, recyclable product introduced in 1999. EcoWorx became the industry's first Cradle to Cradle certified carpet tile, and Ballew has worked to integrate Cradle to Cradle design principles into Shaw's product development and manufacturing processes, including assessment of materials health, product circularity, clean air and climate protection , water and soil management and social justice. What started with EcoWorx is now permeating Shaw's business – nearly 90% of the products Shaw produces are now Cradle to Cradle certified.
"It is an honor to be among the finalists of the Reuters Events Responsible Business Awards 2022 in the Sustainability Trailblazer category," said Ballew. "I have been extremely fortunate in my more than two decades at Shaw to work in a variety of roles, including global sustainability and innovation, manufacturing, product development and engineering sustainability. These roles provided an opportunity to connect with so many individuals at Shaw – and work together to push ourselves even further to design and manufacture products that put people at the heart of everything we do. I'm truly humbled to be shortlisted by other Trailblazers in sustainability, and I'm grateful to Shaw and all the talented people I've had the privilege of learning from and working with throughout my career. "