Shaw sponsors Bright Spark Invention Challenge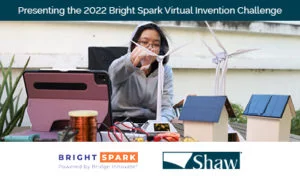 Dalton-Shaw Industries is a contributing sponsor for Bridge Innovate's Bright Spark Invention Challenge for 2022. The Bright Spark Invention Challenge is a free virtual entrepreneurial innovation competition for 4th through 12th grade students hosted by Bridge Innovate, a management consulting firm dedicated to advancing of innovative leadership.
Students use the design thinking process to identify a real-world problem, empathize, imagine, and prototype a physical invention. This year students are asked: "How can we make the world a better and more sustainable place in the future for everyone, including people?" Students are encouraged to explore sustainability, identify a "real need" and design an inventive solution.
This sponsorship is representative of Shaw's efforts to create a brighter future and a better world, the company said. By valuing and investing in the health, wellbeing and success of all people and the planet, Shaw strives to create a future that is sustainable for generations to come. By supporting competitions such as the 2022 Invention Challenge, Shaw aims to encourage and inspire the next generation of inventors. It's all part of supporting the company[HUMAN]skills strategy, which puts people at the heart of its sustainability efforts.
"We encourage students from around the world to participate in the Bright Spark Invention Challenge," said Kellie Ballew, Shaw's vice president of global sustainability and innovation. "By cross-fertilizing ideas from different perspectives and considering new possibilities from fresh thinkers, we can all develop innovative new solutions designed for people and the planet."