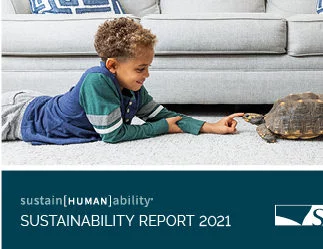 Shaw releases corporate sustainability report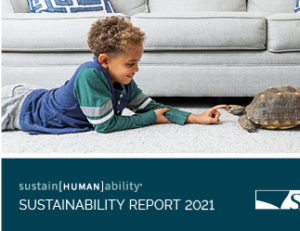 Dalton, Ga.—Shaw Industries released its 14th annual corporate sustainability report. Leveraging results from the 2021 Materiality Assessment and ongoing engagement with customers, key stakeholders and industry partners, the company detailed progress made toward its 2030 goals.
As the company continues its commitment to Cradle to Cradle design principles, it said it has set new goals for net zero operations and diversity and inclusion as part of its sustain[HUMAN]ability strategy.
"At Shaw, we refer to our sustainability strategy as sustain[HUMAN]ability—putting people at the heart of all we do," said Kellie Ballew, vice president of global sustainability at Shaw. "That's what drives our quest to optimize 100% of our products to Cradle to Cradle design principles by 2030. Cradle to Cradle design is about people and the planet—about material health, clean air and climate protection, product circularity, water and soil stewardship and social fairness. And it guides Shaw's thinking regardless of whether a product has been Cradle to Cradle Certified."
Key highlights from 2021, according to the company, include:
Achieving new Cradle to Cradle Certified milestones

Almost 90% of the products Shaw manufactures are Cradle to Cradle Certified

Shaw introduced its first product to be Cradle to Cradle Certified Gold (v3.1)—Patcraft's Reverse collection

The company's EcoWorx carpet tile became the first product in the world to be Cradle to Cradle Certified Silver under the new, more rigorous Version 4.0 standard

Assessing almost 1.8 million pounds of materials for material health in 2021

Setting a new goal to achieve net zero enterprise operations by 2030 and to begin measuring and reporting Scope 3 emissions as part of our focus on climate protection

Supporting our associates and communities through programs and initiatives focused on helping them achieve their full potential, including:

Launching our seventh associate resource group, Mosaic, which recognizes and harnesses the power of physical, emotional and neurological diversity

Announcing a 2030 diversity and inclusion goal for our talent pipeline to reflect available talent in our communities

Providing more than one million hours of training and education

Donating more than $6.5 million to charitable causes
"At Shaw, our innate curiosity and customer-centric approach drive us to constantly ask, 'How might we…?' in our constant quest to do better and to achieve more," said Tim Baucom, CEO and president. "That drive led to impressive results in 2021 despite the challenges Shaw, our customers and associates experienced. By taking an outside-in approach, anticipating shifts in customer preference and translating insights into actions, we learn, innovate and invest in our people and operations."