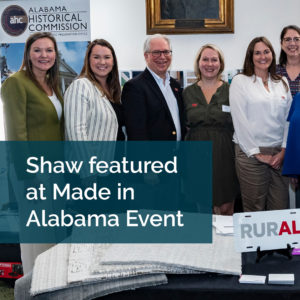 Shaw participates in 'Made in Alabama Showcase'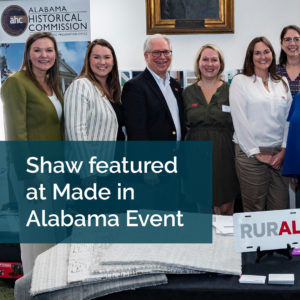 Andalusia, Ala. Shaw's manufacturing facility located here was one of 14 companies selected by Governor Kay Ivey to participate in the second annual Made in Alabama Showcase at the Alabama State Capitol in Montgomery on October 14, 2022.
Shaw and the other participating companies were selected to produce exceptional products with exemplary service in Alabama. The event was held in conjunction with the Alabama Department of Commerce and attendees included elected officials, state officials, members of the media and the public.
"Today's Made in Alabama Showcase provided an excellent opportunity for some of Alabama's top companies to showcase their products and connect with other companies," said Ivey. "A vital part of the community for 30 years, Shaw Industries is Covington County's largest employer and remains committed to ensuring its work environment is representative of the premium products offered to consumers. I am proud to have this leading company here in Alabama and am grateful for their participation in this year's Made in Alabama Showcase."
Plant 65, Shaw's Andalusia facility, produces fibers that are used in the production of carpets for homes and businesses. Over the past three years, Shaw said it has invested in factory upgrades that improve efficiency, production, ergonomics and safety for more than 1,100 employees who work at the factory. Shaw has also made major investments in its people and their health and wellness with the recent opening of the on-site Shaw Family Health Center, according to the company. The Shaw Family Health Center provides primary care, acute care, behavioral health and wellness services to the company's local employees and their family members.
"As Shaw continues his work to create a better future for our people, customers and communities, we will continue to invest in our employees and our operations in Andalusia," said David Morgan, executive vice president of operations, Shaw. "Our people and their passion for their work is reflected in the innovative products and solutions they create for our customers."
According to Brent Floyd, Shaw Plant 65 plant director, Shaw is proud to be the largest employer in Covington County. "With the incredible support of our employees and the Andalusian community, we can continue to support our people to drive next-generation manufacturing initiatives at our factory," said Floyd. "We are honored to be one of the 14 leading companies attending this prestigious event."