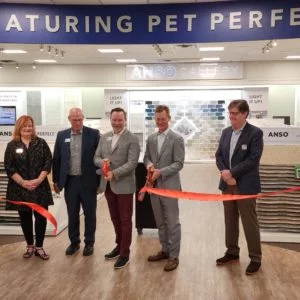 Shaw, NFM debut Anso Gallery showroom concept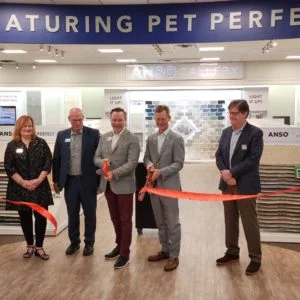 Omaha, Neb.-Shaw partners with Nebraska Furniture Mart, one of the nation's largest home improvement retailers, to launch the first-ever Anso Gallery. The new showroom-within-a-showroom concept is the byproduct of a nearly year-and-a-half collaboration to create an elevated, in-store carpet buying experience. The high-impact destination, which takes up about half the floor in the flagship NFM store, features Shaw Pet Perfect rugs made with high-quality Anso fibers.
"This gallery exceeds my expectations in terms of how warm, inviting and practical it is," said Tim Baucom, CEO and president of Shaw, at the official ribbon cutting ceremony here this week. "I'm already hearing impressive results about how consumers are responding to this concept."
More importantly, Baucom cited the fruits of Shaw and NFM's joint efforts in this endeavor. "This is what happens when we really think about the customer experience," he explains, citing all the players in the supply chain working towards a singular goal. "It's about who installs, sells, buys and specifies our product. In today's connected world, there are so many influencers. In the end, it is the one with the check who uses our product."
None of that happens, Baucom noted, without great partners. "I can't think of a better partner than Nebraska Furniture Mart," he said. "Their tenacity, commitment to excellence and their respect for suppliers as partners. This approach is designed to renew and revitalize our core soft floor coverings. This is an established category in which we invest in the future to give ourselves the tools to be that clear leader in terms of thinking and product. You have to have partners who challenge you to achieve that."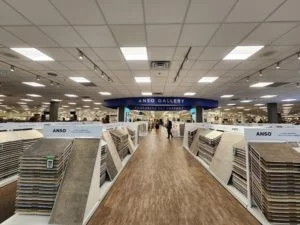 Dave Chambers, director of floors for NFM, expressed his enthusiasm for the concept. "It means the world to us to be the first retailer to launch the Anso Gallery," he told FCNews. "It's a testament to the strategic partnership we have with Shaw. Both organizations came together to deliver an experience that is new to the brick-and-mortar carpet retailing industry. We will continue to improve it and improve that experience for the consumer."
At its core, the launch of the Anso Gallery concept reflects Shaw's reputation for listening closely to its customers when developing/conceptualizing products and programs. "I've never seen two teams come together better to achieve a goal," said Scott Sandlin, executive vice president, residential division, Shaw. "This deal came about over 14 months in the midst of a supply chain situation. This was a classic story of two great teams coming together and making something special happen."
Look for more information about this story in an upcoming issue of Floor Covering News.