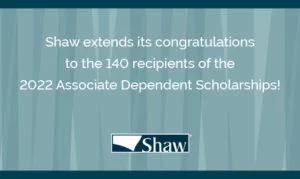 Shaw names 2022 Associate Dependent Scholarship recipients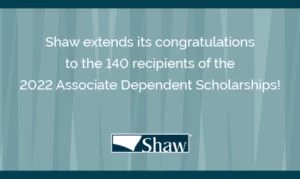 Dalton- Shaw Industries has announced the recipients of its 2022 Associate Dependent Scholarship. The company said it is investing in this group as part of its efforts to create a better future in the communities in which it operates.
Since 2019, when the company first introduced the Associate Dependent Scholarship program, it has awarded scholarships to more than 270 deserving high school students at the expense of Shaw employees. The scholarship program has expanded and Shaw said it is proud to award 140 scholarships in 2022, more than any other year.
"We are proud to support and nurture this next generation of innovators and changemakers in their quest for a brighter future," said Catherine Smith, CSR communications and program manager. "These students are well on their way to making an impact in their communities. We can't wait to see all the wonderful things they achieve!"
From Georgia to California, Canada to Arizona and the many places in between, these students are creating a brighter future for themselves, their families and their communities, the company said.
"Shaw congratulates the recipients of this year's grant," said Deanna Mathis, director of community outreach and corporategiving. "Thank you to all the promising students of Shaw staff who submitted submissions showcasing their academic and community achievements."
The 140 recipients of the 2022 Associate Dependent Scholarship are:
Shivaram
Alec Aaron Alcantar
Alexander Jack MacLeod
Alexis Anne Eltanal Arias
Alexis Kiara Williams
Allannah Lenodicah Davis
Amagenay De'asia Mcmeans
Amaya Ariel Harmon
Andrew Dean Stamper
Annalize Rose Holley
Anthony Peter Perez
Ashlee Kirsten Taylor
Ashley Faith Parker
Ashlynn Makenzie Waters
Ava Delaney Collins
Blake Parham
Blane Copeland Wilson
Braulio Gael Hernandez Jr.
Brayden Elliott Rasnek
brianna nava
Brittany Nicole Aguero
Brock Logan Hix
Bryce Alan Harrell
Bryce Pruett Friedlander
Cadence Augustine Busbee
Carlos Ceballos
Carlos Daniel Tzun Morales
Charles Francis Kazenko
Charnesha Aniya Davis
Chris Luis Gutierrez Lucero
Connor Joseph Curnow
Courtney Renee McCallie
Christian Rojas
Dalton Cole Huckabaa
Dayton Dempsey Draper
Destiny Ny'Asia Farris-Hoover
Dora Annastasia Moore
Drake Austin Burke
Drew Alan Van Dyke
Elson Grace Ball
Emely Lisset Barrera
Emilee Ann Profitt
Emma Grace Ferguson
Eriahna Shatise Heath
Ernest Alfonso Garcia
Finnian Jaeger Stroop
Gabby Paniagua
Gabriela Alis Velazquez
Gabrielle Estelle Boyd
Gage Lee Southland
Grant Carlton Miller
Harris Matthew Gallegly
Haylee Ann Buhl
Herbert Stanley Upton III
Hope Brooks Blackmon
Hunter Hayes Foster
Hunter Keith Bailey
Isaac Anthony Cuevas
Isaac Lopez
Jacob Daniel Tolson
Jacob Gray Corbin
James Davis McKenzie
Jamison Cole Jennings
Jasmine Alexandre Ullman
Jasmine Aneesa Gaines
Jocelyn Ramos
Jordan Alexander Howard
Juan Jesus Pajarito
Julia Elizabeth Berman
Julia Li Hahn
Kaila Lynn Greeny
Kara Nicole Young
Katelyn Rae Dunning
Katelynne Joy Winkler
Kaylea Shavon Moore
Kelly Brooke Young
Kevin Lara
Kori Madison Richey
Kunal Sahoo
Ky-Anh Huynho
Kyler Lawson Williams
Kylie Grace Speer
Kynlee Nicole Austin
Lanie Denise Cronan
Lauren Elizabeth Francis
Liam Shjon Kenney
Lila Emory Satterfield
Lily Marie Davis
Lily Marie Jacobson
Luke Peyton Headrick
Luke William Johnson
Mackenze Paige Poulnot
Macy Elizabeth Brown
Maggie Elizabeth Garcia
Marco Antonio Martinez
Marlee Renee Jackson
Marley Caroline Hess
Marvin Castillo
Matthew Robert Jameson
McKinlee Faith Harrison
Melissa Trujillo Martinez
Melvin Hernandez
Mia Valentina Cabrera
Michael Kaden Sage
Myridian Chantel Mitchell
Natalie Nicole Rodriguez
Nathan Edward Haynes
Nathaniel James Grisham
Nora Claire Nova
Nyah Shae Berrie Bireckic
Orlando Santiago Martinez
Oscar Daniel Rodriguez
Parker Ellen Jones
Raylee Kendal Hankins
Rebecca Monet Salerno
Reese Avery Kirkham
Rheanna Shontelle Hutto
Robert Escamilla
Roman Valdez
Ryan Kieren Corcoran
Ryan Olivia Swilling
Saber Marie Imesch
Samantha Paige Pasley
Sanjitha Abbie Joseph
Saints Isaac Guzman
Sara Kathryn Goodfellow
Sara Sainvil
Sarah Makenna Fountain
Sarah Rachel Thomas
Sara-Kate Alexandra suits
Savannah May Jordan
Sedrick Leuntay Jones
Shane Michael Davis
Simon-Petro Komlan Fury
Sonia Angelica Aguilar Haircut
Talia McKenzie Carey
Tanner D Hicks
Vasti Sarai Santos
William Samuel Langdale
Zandria Burton