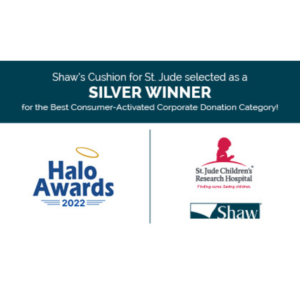 Shaw named a 2022 Halo Award winner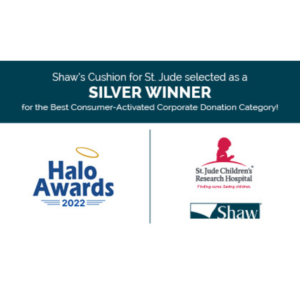 Dalton-Shaw and the Shaw Cushion Program for St. Jude Children's Research Hospital have been named the 2022 Halo Award Silver winner in the consumer-activated business donation category by Engage for Good. For every square foot of pillows sold through the program, $0.18 is donated directly to St. Jude — $0.09 from Shaw that's matched by the retailer when the consumer upgrades their pillow purchase, the company said.
Since 2013, the program has been extremely successful, with over $7 million in donations supporting St. Jude's lifesaving mission: finding a cure. Save children. "As we celebrate our 10-year partnership with St. Jude, it's humbled to be recognized by Engage for Good alongside the research hospital," said Jon England, vice president of business accessories at Shaw. "Thanks to the continued support of our retail partners, we have been able to take this program to new heights year after year, even engaging homeowners with the life-changing purpose behind these products. On behalf of all of Shaw, we are incredibly honored to be recognized as the winner of the Halo Award 2022."
The Halo Awards are North America's highest accolade for corporate social impact initiatives that demonstrate outstanding consumer or employee engagement. According to the company, this marks the 20th year that Engage for Good has rewarded businesses and nonprofits with Halo Awards for doing good by doing good.
The Engage for Good Conference in Atlanta, Georgia, held on April 18, 2022, presented a total of 20 category awards to programs rated as the best social impact campaigns for business of 2021. Halo Award-winning campaigns remind us of the tremendous positive impact businesses can have in tackling societal challenges," said David Hessekiel, president, Engage for Good.
The post Shaw has named a Halo Award winner for 2022 appeared first on Floor Covering News.