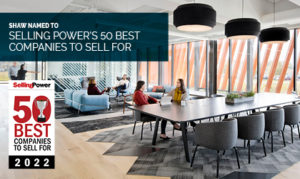 Shaw named 2022 'Best Companies to Sell For'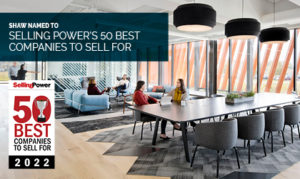 Dalton-Shaw Named "50 Best Companies to Sell For" in 2022 by sales force magazine. This year marks the 19th consecutive year that Shaw has made the list, ranking No. 10 and the only flooring company to be recognized in the top 20.
"Our sales team has proven time and again that it can adapt to changing market needs," said Tim Baucom, Shaw president and CEO. "Their success is a testament to Shaw's culture of continuous learning and our organization's commitment to developing high-performing salespeople. We are honored to be recognized for these efforts and will continue to innovate our products, processes and programs to ensure our sales teams are ready for success."
Shaw's sales force consists of approximately 1,200 employees worldwide. Shaw's award-winning training initiatives, combined with a culture of inclusiveness, innovation and success, have resulted in 90% of the company's sales force having been with the company for more than two years. Shaw offers employees a variety of tailored learning resources to support career development and growth.
sales force magazine is a leading publication for sales professionals, providing insights and strategies for success in sales management. For the past 22 years, sales force has ranked and identified the best companies to sell for. The ranking factors, which represent a broad group of companies, include: compensation and benefits: hiring, sales training and sales promotion; and customer retention.