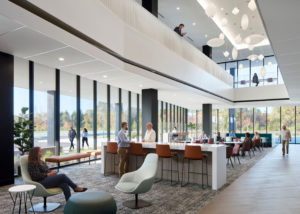 Shaw Contract names 17th annual Design Awards winners
Cartersville, Ga.-Shaw Contract has its 17 winnerse annual Shaw Contract Design Awards. Five projects from around the world were selected from the 37 regional finalists and named "Best of Globe" winners.
The Design Awards program recognizes exceptional design that positively impacts people and the planet. Shaw Contract received 600 Design Awards entries this year, narrowed down to 37 regional finalists and judged by an esteemed panel of judges. The panel of the Shaw Contract Design Awards consisted of design professionals from around the world who were invited to evaluate and rate each project and how it contributes to the changing needs of the market.
"Each year, Shaw Contract honors standout design in an effort to recognize the creativity and imagination of high-quality projects around the world," said Todd Jarvis, Shaw Contract Global Marketing Director. "Award-winning design is more than just honoring aesthetics. These designs solve problems, make people happy and inspire action."
HGA's Crystal Clinic Orthopedic Center was the only North American project recognized in this year's "Best of Globe" winners. Crystal Clinic is a world-class hospital focusing on orthopedic, plastic and reconstructive care. The innovative design of the 15,000-square-foot hospital consists of three levels, including 12 operating rooms, 60 private rooms and a courtyard, which gives patients easy access to daylight. Outdoor circulation paths have been strategically carved into the building to provide covered experiences for patients and family members as they approach the building and are discharged, giving them a sense of security and intimacy. Interior spaces feature a palette of rich, saturated hues and gold accents with an emphasis on natural daylight, creating a space that draws inspiration from inviting hospitality spaces.
"As designers, we have a responsibility to advance this industry and take our healthcare facilities to the next level," said judge Jason Horton, IFI Board Member and Design Studio Lead at CBRE Japan. "This project and HGA's considerations are an excellent example of that."
The Shaw Contract Design Awards recognize talent around the world. In addition to HGA's Crystal Clinic Orthopedic Center, four winners were chosen for global awards, including EY Melbourne by Gensler of Melbourne, Australia; Hilton Singapore Orchard by Avalon Collective of Singapore; IGO by Rezen + Templewell of Perth, Australia; and Sede Insole Energia by Mobio Arquitetura of Recife, Brazil.
For more information about the winning projects, visit here.