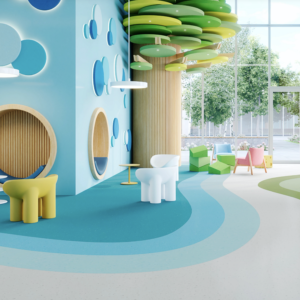 Shaw Contract expands healthcare offerings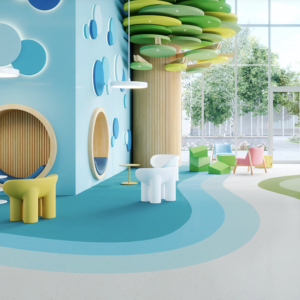 Cartersville, Ga.—Shaw Contract's latest healthcare innovation is Vitality, a homogeneous sheet product. According to the company, Vitality's continuous construction is ideal for high-impact areas, such as operating rooms, where wounds and cuts are common and infection control protocols are highest.
Vitality's non-porous construction resists moisture, which is the leading cause of mold and mildew growth. The collection also withstands heavy static and heavy rolling loads according to ASTM test methods and is guaranteed against under-bed defects.
Vitality's most recent update includes an expansion of colorways as the collection now offers 72 different options. "We made sure to develop colors that best represent healthcare, with a focus on shades that are calming, biophilic and can bring brightness to areas such as pediatric areas," said Allison Wolff, director of senior care and health care at Shaw Contract. "The shades also reflect the needs of high-intensity environments subject to high staining agents. Cleanliness in care is expected; quality of care is compromised if an area is perceived to be dirty."
Under the Shaw Contract, healthcare facilities such as operating theaters stick to dark colors in the brown family because they hide common stains like iodine best, but because the current Vitality line and new additions have a formulation that is resistant to iodine, hand sanitizer, blood and betadine, the floor is offered in just about every color of the rainbow between the two groups Vitality Hues and Vitality Tones.
"All selections go through our stain battery during the development process and we noticed that iodine accumulated on the surface; not all products do that," said Wolff. "Vitality got perfectly clean simply by using a 70% alcohol wipe, when we saw competing products stain. It's remarkable."
According to the company, a bonus is the ecological basis of Vitality. With up to 20% pre-consumer recycled content throughout the collection, it contributes to the circular economy that is paramount when designing contemporary interiors.
Vitality also has several certifications:
LEEDv4 Contribution

IEQ FloorScore IAQ certification and low VOC emissions

Ortho-phthalate free

Manufactured to be free of ortho-phthalates

Floor score certified

Meets Floorscore and IAQ certifications for low VOCs

Product transparency

According to the company, Vitality will soon have a Health Product Declaration (HPD), a transparent disclosure of product content and associated health information.
Vitality comes with a long-term warranty that covers manufacturing defects, wear and tear and moisture from above. The company said it is ready to ship today.