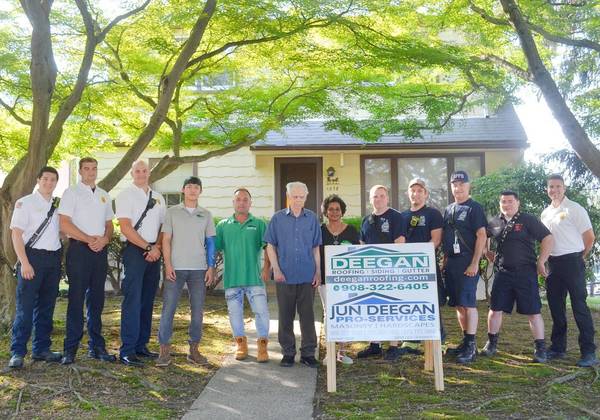 Scotch Plains Fire Dept, Deegan Roofing Aid of Elderly Man Swindled by Scammer
SCOTCH PLAINS, NJ — When the Scotch Plains Fire Department responded to a call for help in torrential rain on May 28, they were disheartened to arrive at the home of John Mulligan, who told them a man posing as roofer on his door, told him the roof needed repair and then took his money without doing the job. To make matters worse, the scammer went up on the roof and pulled off a few shingles, eventually causing water damage to the house.
"We were sent to the address for the reported water leak. When we got to the scene, we met Mr. Mulligan," Scotch Plains Fire Chief William Bowman told TAPintoSPF. "During a rainstorm, water poured through his roof. He told us that he hired a contractor who came to remove a large part of his roof and never came back."
The firefighters have put up rescue tarps to contain the water leak and have contacted Deegan Roofing for assistance. Owner Brian Deegan said he would donate a new roof for Mr. Mulligan's home.
"That's why we're showing support for the local business here now," Bowman said.
"I've been in business for over 35 years. We come out and give you free estimates. We don't call you (to solicit business), you call us," Deegan said. "Well-known companies don't knock on your door. Nobody should be knocking on your door for anything. If you don't feel like opening your door, don't do it."
Mr. Mulligan said the man gave him a business card and then took it back. The scammer told him that the house needed a new roof and that he had a crew nearby.
"I fell for the hook, line and sinker," said Mr Mulligan, 83, an Army veteran who lives alone and has no children to look after him. "He took the money (several thousand dollars), and it was 'Goodbye,'."
"When I got here, I could tell by his face that he had just been totally devastated. Then I decided to go back to the office and see what we could do. We put our heads together and came up with this idea," said deegan.
Deegan wants to warn the public that predators want to take advantage of people.
"It's very important — if someone knocks on your door, call the police. It's illegal to select companies by going to people's homes," Deegan advises. "Check a company's Better Business Bureau rating. Companies must be licensed, insured and registered with the Better Business Bureau."
"We feel great to be able to help Mr. Mulligan. To see the expression on his face when we told him we were taking care of it – there are no words to describe the feeling," Deegan said. "I've been in this business since 1989 and my son, Jun, is now taking over. This community is great; I grew up in Westfield and live in Scotch Plains. This is where my business is, we do 85% of our work in this community."
Jun said the work would be completed in one day.
"Usually we do a roof, we finish it the same day," he said. "With the extent of the damage done to the back of his house, we're taking the entire roof off and putting in a new one."
Scotch Plains Township manager Al Mirabella said he was proud of the fire service who answered the call to Mr. Mulligan's home and made sure everything was going to be okay.
TAPintoSPF.net is Scotch Plains-Fanwood's only free daily local news source. Sign up for our free daily e-newsletter and "Like" us on Facebook and Twitter @SPF_TAP. Download the free TAPinto App for iPhone or android.
Are you as a company interested in reaching our audience? E-mail jmooney@tapinto.net.