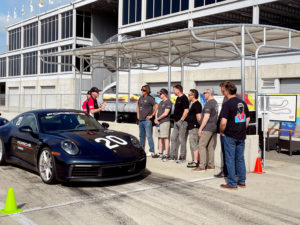 Schönox hosts Hands ÖN training session event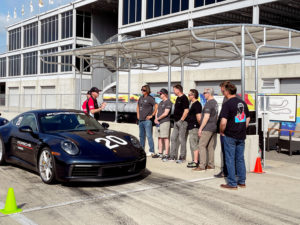 Florence and Birmingham, Ala. Customers and colleagues who attended a recent Schönox Hands ÖN training session at the company's Florence Support Center split their week between learning the speed and performance characteristics of both Schönox and Porsche, the company said.
"The Porsche Track Experience was one of the best times of my life," said Les Lippert, president, Lippert Flooring and Tile. "It was a great opportunity to meet more of the Schönox and Küberit team and see their facilities."
Organized by Schönox, Küberit USA, Trissl Sports Cars and TMT America, the Schönox Hands ÖN event was set from the start with guests being picked up at the airport in a series of Porsche Macans and Cayennes. The Schönox Hands ÖN training followed, introducing participants to Need for Speed ​​products and strategies. Employees at Küberit USA said it shared the company's fast-growing line of floor and wall profiles and offers solutions for all projects and floor coverings.
Training later moved from the Schönox Support Center to Barber Motorsports Park, home of the US Driving School of Porsche. "It was a fantastic event, showing outstanding technologies in the hands of so many leaders in the flooring industry," said Mike Penney, senior vice president of sales, Schönox HPS.
The Schönox Florence Support Center receives weekly floor contractors, installers, distributors and specifiers and provides comprehensive training on the use, benefits, installation details and project strategies of the entire Schönox underfloor range. Trissl Sports Cars, a division of TMT America, said it hosts several events each year at Barber Motorsports Park and at the Trissl Sports Car facility. "There's no question that I now want a Porsche, but what made me happiest was the opportunity to have these experiences with my father (Dan Ulfig)," said Garrett Ulfig, Southwest Director of Master Craft Floors.