Satellite data shows big solar installation delays in Texas
In its January 2022 report, Texas grid operator ERCOT lists 46 solar projects totaling 9.8 GW slated for completion in 2022, 19 of which are expected to be completed in H1 2022. New data from kayrros shows that so far only 9 of those projects, 1.4 GW, have been completed. Of the 37 remaining projects, Kayrros predicts nine of them, representing 31% of the annual total or 3 GW, with a delay of at least six months from the date stated in the ERCOT application.
The data comes from Solar Tracker from climate technology company Kayrros, a tool that can measure the progress of solar energy projects. Using the European Space Agency's Sentinel-2 satellites, geolocation and machine learning algorithms, they can collect near real-time data on whether a project is completed, in progress, on hold or not started. They can also use the data to predict when a project will be completed and to indicate how much capacity is installed.
In total, 37% of the announced capacity appears to be currently under construction. These projects have continued to install panels amid market difficulties, but some at a slower pace. Coupled with the nine completed projects, 68% of the capacity listed in the January 2022 ERCOT application is moving forward. The remaining 33% of capacity is at risk — there are 12 projects accounting for 3.2 GW that either have not started or have started construction but have stopped. The owners of these projects are likely to take a wait-and-see approach to recent market challenges.
"There are huge implications for the completion of solar farms where asset managers, traders and other market participants are missing vital information. Challenges at every step of the value chain create the possibility of delay or cancellation of projects across the country, with huge implications for electricity and natural gas prices and of course for the earnings and valuation of market players," said Mark Taylor, VP of energy transition at Kayrros.
Finished projects
The nine completed projects represent 1.4 MW of additional capacity; 53% of the announced capacity seems to be going ahead. But Kayrros' data shows that as projects continue to install panels amid market difficulties, they are doing so at a slower pace.
Danish wind and solar giant Orsted's Old300 project is set to be completed in February 2022. In early April, Kayrros noticed that construction work was still underway and that installation was slowing down than in previous months. On April 29 during Orsted's Q1 earnings call, CEO Mads Nipper confirmed the delay and that the company has pushed the date to 2023, blaming the challenges in the solar panel supply chain related to the charges of forced labor in China and possible US tariffs on tariffs. Chinese goods.
On hold projects
7 projects worth 2 GW have either not started or have stopped construction. For example, EDF's 610-MW Space City solar project is still scheduled to be completed by the end of December 2022. Kayrros' data shows that there are no construction activities. Based on observed installation rates elsewhere, there is not enough time to install the panels to meet the target deadline – this project will be late and expected to be completed in 2023.
No less worrying are the projects that have started and suddenly stopped. For example, the 350 MW Fighting Jays project should be completed by July 2022, as of the January 2022 ERCOT filing. By that time, while construction had stopped (indicating completion), Kayrros' analysis shows that the farm 100 MW remains below its own target.
This project is owned by Copenhagen Infrastructure Partners, which raised 800 million euros in 2021 for its first 'energy transition fund': funds with the explicit goal of bringing renewable energy capacity online. This fund is one of many similar funds that raised more than $20 billion last year. If such funds struggle in the US market, it seems likely that they will move to other more hospitable markets to deploy capital.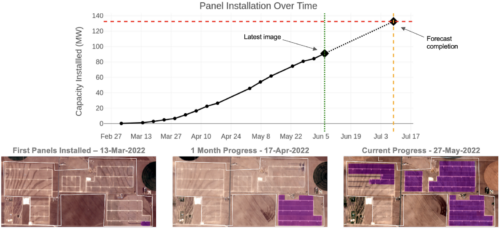 News item from Kayrros