San Antonio municipal utility signs PPA for new 300-MW solar project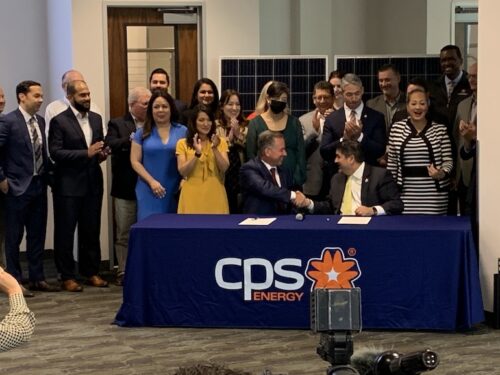 CPS Energy, the largest municipal electric and natural gas company in the United States, has reached an agreement with Consolidated Edison Development for a 300 MW solar project in Goliad County, Texas, as the first part of its FlexPOWER BundleSM initiative. The selection marks one-third of the utility's goal of adding up to 900MW of clean, renewable energy to its power generation mix, and will further bolster San Antonio's national Top 5 Solar Superstar rankings.
Construction on the Peregrine Solar project is scheduled to begin next year and is expected to add 250 to 300 priority temporary jobs in the San Antonio area. As part of the partnership agreement, Con Edison Development will contribute $500,000 over a 10-year period to support one of CPS Energy's community priorities of supporting customers and education. Con Edison Development will also lease up to eight positions from Greater San Antonio and hold $750,000 in annual spending with local suppliers and vendors over the term of the 25-year agreement. This will result in a $19 million local investment for Bexar and Goliad counties.
"This agreement is an important step forward for our community's FlexPOWER Bundle initiative and clean energy strategy," said Mayor Ron Nirenberg. "The way we generate power determines our ability to care for a sustainable environment. San Antonio is making great strides toward carbon neutrality, and CPS Energy's continued leadership in renewable energy is enabling our progress."
The FlexPOWER Bundle initiative aims to further diversify CPS Energy's power generation mix, with up to 900 MW of solar, up to 50 MW of energy storage and up to 500 MW of bracing capacity. The bundle is part of the utility's broader plan to replace the older generation with newer and cleaner technologies.
A request for proposals for the FlexPOWER bundle, launched in November 2020, resulted in more than 650 proposals from 100 companies in the US and ten other countries, including Japan, England and South Korea. CPS Energy expects to finalize and award all FlexPOWER bundle contracts within the next few months, with next solar selections expected in the coming weeks.
Con Edison Clean Energy Businesses will be solely responsible for the construction, operation and maintenance costs of the project, while CPS Energy will acquire the solar energy produced in Peregrine through a 25-year PPA.
News item from CPS Energie