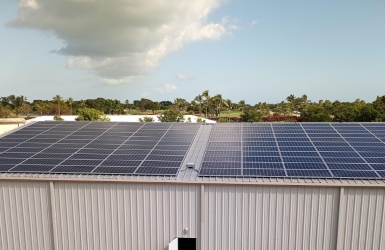 SALT Energy installs 58-kW solar array at private Florida community
SALT Energy recently completed a rooftop solar panel at the Ocean Reef Club on the northernmost tip of Key Largo in the Florida Keys. Ocean Reef Club is a private club community with 1,700 waterfront estates, private homes, condominiums, and an oceanfront inn.
The resort's grounds include a 6,400 m² reverse osmosis water plant with 58 kW of solar photovoltaic energy and an SMA solar inverter. The solar installation is expected to save the resort an average of $1,000 per month on its electric bill.
The club is located on a private peninsula adjacent to America's only living reef, bounded by water on three sides and federal and state territories on the fourth. The area is subject to 180 mph, Category 5 hurricane winds, making installation of a low profile, roof-mounted system essential.
Using the only south-facing roof available, SALT Energy installed 132 SunPower A-Series 440W modules to maximize solar output in the allocated space. The modules were attached to the Dean Steel Building Rib-12 roof using the S-5-PVKIT 2.0 solar mounting solution along with S-5!'s RibBracket III.
SALT Energy faced the challenge of installing the solar next to the local airport runway (just 50 ft away), so a shimmer and glare analysis was required. The findings and resulting action points from this review would ensure that the reflection from the solar PV would have no visual impact on pilots or air traffic controllers.
"SALT Energy serves the most demanding market in the US and the Caribbean for solar installations due to projects in high-speed hurricane zones and coastal exposure from the Atlantic – our wind load design requirements are the highest in the US," said David Kaul, operational and Technical Director, SALT Energy. "Together the S-5! products offered an unobtrusive design solution with minimal equipment on the roof to achieve a design strong enough to withstand the high wind loads of the area. With a fully thought-out design, three to five module clamps per side, depending on the roof wind zone (six to 10 fixing points per module), 15% of the own weight of rail mounting and a more uniform wind load distribution to the roof structure, this array welcomes any category 5 hurricane challenge."
The Ocean Reef Club offers a range of amenities including a spa and salon, medical center, supermarket, cooking school, nature and cultural centers, independent school and private airport.
News from S-5!