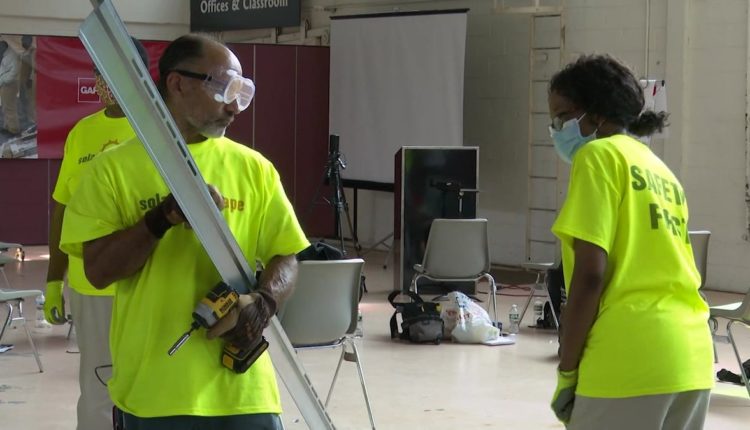 Roofing, solar power training held in Camden County amid shortage of skilled workers
There is a need for skilled workers in the roofing and solar industry.
The staff shortage prompted a national roofing company to provide on-the-job training in Camden County this week.
The training, held in Pennsauken, gave a group of 20 men and women the opportunity to learn the trade at GAF Roofing Academy.
"I'm definitely very interested in the fact that solar is the new energy source for homes, so when I heard about it, I said I would definitely apply," said Cinnaminson's Nonye Udotong.
The group learned the basics of the industry.
"They learn the basics of a roof anatomy, the rafters, what a roof is made of, what goes on that roof to protect the house below, and then they do hands-on training," says trainer Danny Caivano.
Graduates are given the opportunity to apply for entry-level positions.
"After this I know I would definitely want to [apply] My interest is in electricians and electricians, so I think I'll go for solar insulation first, because I think that's the way to come in," says Udotong.
The program was available to everyone because of the need for skilled workers.
"It reminds me of my grandfather. He passed away not too long ago, so it's more likely that this will be easy for me. I feel like I can do it," says Brandon Munden of Philadelphia.
The trainers say more people should consider a career in trading.
"The technology boom in the 1980s deterred people from going into trade and what that created was a gap. In the country we have a documented 34% shortage of skilled crafts," said training manager Danny Caivano. "So guys like me – retire or teach and not get on the rooftops or on the ground, really build or not be replaced because studying was more important. But now you see a trend – that you can still make a good living with work your hands."
Friday was the last day of the free five-day program.