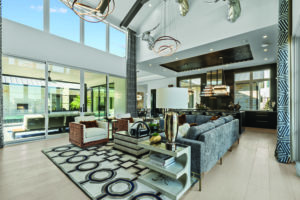 RIVA rises to the challenge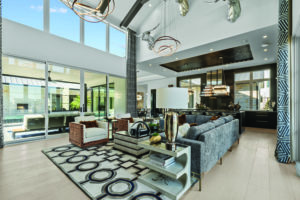 sDue to the war in Ukraine, the traditional Baltic birch cores have become increasingly scarce. As a result, hardwood flooring suppliers around the world are rushing to get their hands on alternative materials, as Russia and Ukraine — the major exporters of birch plywood cores — have effectively disappeared from the supply chain.
While few engineered hardwood flooring manufacturers are immune to the ripple effects this sweeping event has created, some suppliers are acting quicker to put themselves first in terms of both identifying alternative core materials and implementing them in their final products – all while providing the address socio-economic challenges posed by the war. RIVA is a good example of such a company.
The company, based in Vigo, Spain, with US headquarters in Miami, has announced the launch of its new RIVA Core, a 3-layer engineered product with a durable, dense exotic teak interlayer sandwiched between a European white oak and a pine bottom. /back layer. The end result, according to the company, is an extremely stable product that delivers optimal performance.
"The switch to teak ensures that our parquet floors receive an upgrade in strength, durability and resistance, as well as design benefits," said Borja Iglesias, CEO of RIVA. "We used birch plywood, but because of the war in Eastern Europe we no longer want to use it. Thanks to the amount of wood we have in the factory and that we have collected over the years, we have been able to test the properties of different species. We decided to go for exotic teak based on its density, strength and weight. It ensures a more stable and durable product."
Exotic teak is indeed a core material for workhorses. Exotic teak (Tali) is considered one of the most durable species on earth and is extremely resistant to rot, changes in humidity, termites and other pests. RIVA has further enhanced the inherent properties of the species by using proprietary processes to ensure that the natural oils found in exotic teak remain in the wood during production. In addition, high-tech resins and finishes provide visual and performance improvements.
The fact that the product is built on a developed platform only adds to the overall stability. "The direction of the grain in the exotic teak core layer is opposite to the top and bottom layers," explains Iglesias. "We guarantee that the middle part, the core, will not move."
Large stock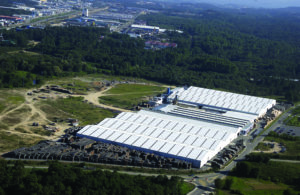 Aside from product performance, RIVA customers will also be pleased to know that the company maintains sufficient inventory to ensure on-time deliveries. "Right now we have 20 million square feet of exotic teak in stock in the factory," Iglesias said. "We won't have to take any material with us for the foreseeable future. More importantly, we can guarantee the price for the following year. This provides some stability in a volatile market."
Some of that product is already on its way to RIVA's distribution center in Miami. The company also maintains warehouses in Los Angeles and a newly opened facility in Jacksonville, Florida, the "largest warehouse to date," Iglesias added.
Future plans call for RIVA to convert the distribution center in Miami into a state-of-the-art custom finishing facility. "There we will be able to create one-off colors and apply technologies such as reactive staining," Iglesias noted. "Once the facility is complete, the end user will be able to see their floors being produced first hand."
Go-to-market strategy
RIVA currently works directly with flooring retailers and members of the A&D community to meet the needs of residential customers, high-end home builders and commercial specifiers alike. On the retail side, the company has partnered with "RIVA Galleries," those dealers who can devote more space to displaying RIVA merchandise, installed floors, and other point-of-purchase systems. For those dealers with limited floor space, the company offers the option to set up "RIVA Corners", which use a smaller footprint.
"The dealers who create RIVA Galleries have exclusive access to our products in a particular region or geographic radius," noted Iglesias. "We hire salespeople in major cities who work with the stores to set up displays and serve customers. We strive to build a community of architects, designers, consumers and contractors around a particular store."
To support these retailers, RIVA has developed a product offering tailored to a variety of consumer tastes and styles. RIVA offers over 90 SKUs in today's most popular colors and types.
"We have removed about 60% of our products from the catalog and simplified our collections," explains Iglesias. "Nevertheless, we still offer 90% of the color palette that is popular at the moment."
More importantly, RIVA offers retailers items that can generate high profit margins. Most of the company's products, which measure 8 feet long x up to 10 inches wide, have a suggested retail price of $12-$15 per square foot. "We position ourselves as a luxury producer," noted Iglesias. At the same time, the collections we have created are still accessible to the regular hardwood consumer. We want to make sure the product is available to the general public."
It is a strategy that is bearing fruit for RIVA's retail partners. "Time and time again, RIVA exceeds expectations regarding customer satisfaction, quality control and availability," said Jonathan Cisneros, owner of Wynwood Floors, Miami. "We are honored to partner with a trusted company that shares the same values ​​in the industry."
Kevin Van Beek, president of Specialty Forest Products, Boston, echoed those sentiments. "Since the collaboration with RIVA, the relationship has been fantastic. These guys are a class act. With top products and access to the entire RIVA team, you can go a long way."