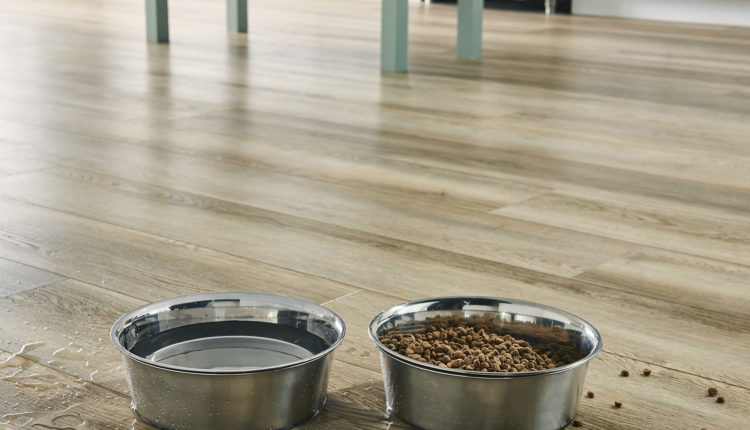 Resilient: Surface protection takes rigid to next level
By Megan Salzano-Birch- Rigid core floors have grown in popularity by leaps and bounds lately and show no signs of slowing down. That's why hard core flooring suppliers continue to launch improvements within their product lines that aim to win the hearts (and wallets) of consumers across the country. One such innovation is the development of unique surface technologies that aim to provide greater benefits.
Below is a sampling of the new and innovative surface technologies currently available.
ARMY FLOOR WITH DIAMOND 10 TECHNOLOGY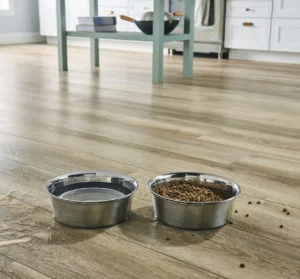 Armstrong's Empower Rigid Core floors — with its new Reinforced Mineral Core
(RMC)—features Diamond 10 Technology, a patented innovation that uses cultured diamonds — with all the properties of real diamonds — to provide the ultimate in scratch, stain and abrasion resistance. Suitable for commercial and residential settings.
CALI VINYL LONGBOARDS WITH SURFACE SHIELD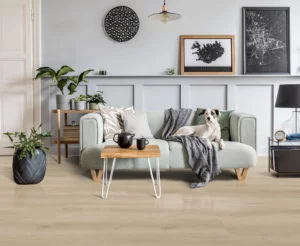 Each of Cali's Longboards planks has a diamond-finish surface shield that makes the floor easier to keep clean and look like new. Like all Cali Vinyl collections, Longboards also meet ASTM F3261 Resilient Flooring Standards for surface integrity, resistance to chemicals, resistance to heat and resistance to light. Planks are 100% waterproof.
CFL FIRMFIT WITH SCRATCH SHIELD MAX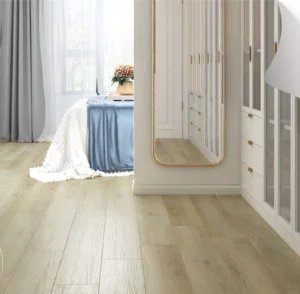 Scratch Shield Max is made from a patented formula of active ingredients that impart extreme hardness to the floor's surface. Scratch Shield Max offers the opportunity for hard core floors to perform better on all fronts. The result is a coating that outperforms traditional technologies in the three areas that matter: scratch, wear and stain resistance.
CORETEC ADVANCED+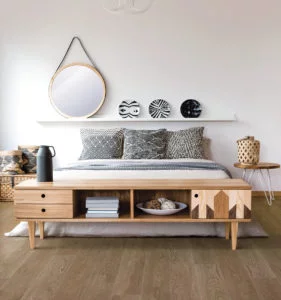 COREtec Advanced+ is the highest performing COREtec floor to date and offers superior scratch resistant surface protection, made possible by the 100% waterproof mineral core. The innovative technology, backed by a 15-year scratch guarantee, promises the most pet-friendly hard floor coverings available.
ENGINEERED FLOORS' ENSIGNIUM WITH EVERTUFF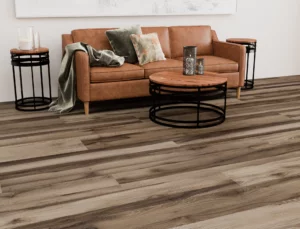 Unlike traditional protective coatings, Evertuff has a matte finish designed to give the product a more natural appearance compared to traditional glossy film.
Evertuff is available in EF's Ensignium line, seen here is Avant Garde in Hawthorne. Evertuff has an AC4 rating, which means it is suitable for residential and even commercial applications.
FLOORTE ELITE WITH PAWDEFENSE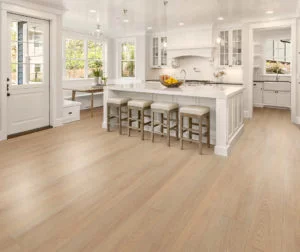 Shaw's new Floorté Elite styles feature PAWdefense technology, a patented topcoat that provides elite protection against pet nails and other scratches and is backed by a 15-year scratch warranty. Floorté Elite also features Enhanced Natural Realism technology that more closely mimics the hardwood images.
HAPPY FEET WITH NULMARK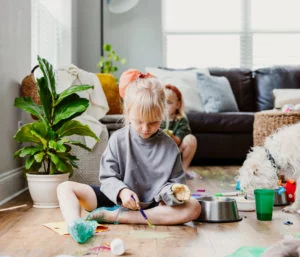 ZeroMark Stain Resistance is made using proprietary compounds developed specifically for harsh environments. Unlike traditional coatings, Happy Feet's ZeroMark is said to provide unprecedented protection against almost any type of wear, stain or stain.
INHAUS ITS ECLIPSE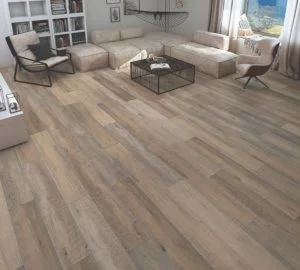 Sono Eclipse is finished with a patented system that uses multiple technologies to create a surface that is visually appealing, comfortable to walk on and robust. The advanced surface finish provides durability while providing the ultimate blank canvas for designers.
KARNDEAN K-GUARD+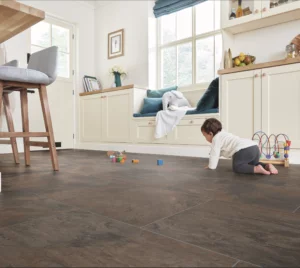 K-Guard+ surface protection provides a hygienic, easy-to-clean and scratch-resistant finish. K-Guard+ uses polyurethane technology to provide a hygienic and durable finish that is both flexible, strong and has a history of proven performance. K-Guard+ will not whiten when scratched or leave stress marks when handled and can still be cut with a simple utility knife.
MANNINGTON ADURA WITH MICROBAN
All of Mannington's Adura brand floors, including Adura Rigid, feature Microban antimicrobial surface protection. Microban helps keep floors clean for longer by not allowing bacteria to grow, floors are said to be 99% cleaner 24/7 for the entire life of the floor. The protection is built into the wear layer and will not rub off or scratch.
PERGO EXTREME WITH WET PROTECT TECHNOLOGY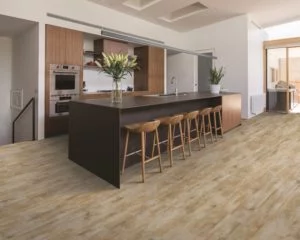 Pergo Extreme features WetProtect waterproof technology. With waterproof compounds that prevent damage to the subfloor and the unique waterproof finish that traps spills and splashes on the surface, WetProtect is a full coverage waterproofing that is not only backed by a Lifetime Waterproof Warranty, but also backed by a Lifetime Warranty on the subfloor.
MSI EVERLIFE WITH CRYSTALUX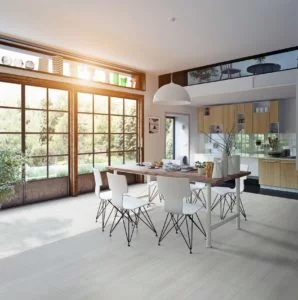 CrystaLux is a patented technology developed by MSI that provides industry-leading protection against everyday wear and tear, including abrasion, scratches, UV rays and pet accidents. CrystaLux is part of every Everlife product from LVT, hybrid rigid core to WoodHills.
TDG's TRUARMOUR/TRUGLASS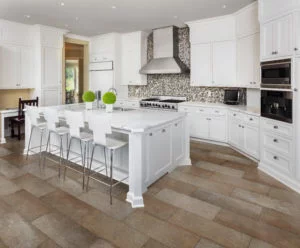 Available with The Dixie Group's TRUCOR 3DP collection, TruArmor's state-of-the-art performance finish provides exceptional stain repellency and abrasion resistance with an antimicrobial coating, while TruGlass offers outstanding durability, abrasion resistance and increased clarity.
UNILIN ACTIVEGUARD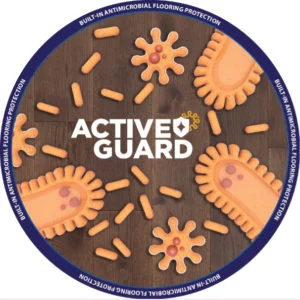 Activeguard's built-in antimicrobial protection is designed to make cleaning the floor surface effortless. Activeguard inhibits the growth of microorganisms and actively attacks microbes to remove unwanted bacteria and neutralize odors.
WELL MADE HARDMAX NANO FINISH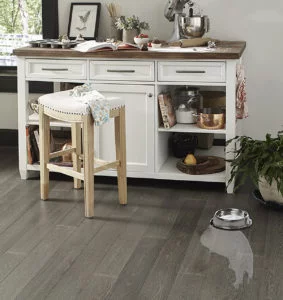 HardMax Nano Finish technology offers extraordinary hardness, superior abrasion resistance and crystal clear images. Greenguard Gold Certified HardMax finishes are suitable for commercial and residential applications and can be damp mopped for easy care and maintenance.