Renu Energy Solutions installs almost 27-kW solar array for UNC Asheville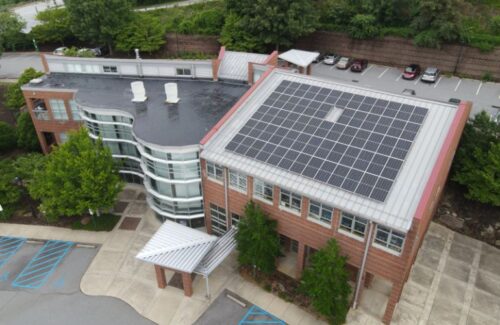 Renu Energy Solutions announced the completion of a 26.56 kW new solar installation at the University of North Carolina Asheville (UNC Asheville).
Renu Energy completed the installation of 64-panel solar panels in May to power the UNC Asheville Reuter Center, an education facility on the campus that houses the Osher Lifelong Learning Institute. The facility will provide an estimated 37,000 kWh for the university's network infrastructure and support UNC Asheville's new campus standards for energy efficiency and sustainability.
"The Reuter Center solar installation doubled UNC Asheville's solar production and was our first renewable energy project since our commitment to carbon neutrality by 2050. In addition to the climate impacts, this project will offset $920,000 in energy costs for the university over the course of the system life," said Jackie Hamstead, co-director of sustainability at UNC Asheville. "We are most proud of how this project has brought together so many partners working towards the common goal of a healthier future."
News item from Renu Energy Solutions