Renewable Properties completes first 10.6 MW of large New York community solar portfolio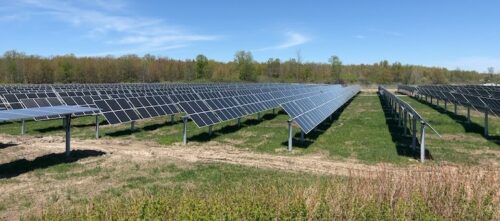 Renewable Properties announced that in June and July this year, two of its first community solar projects in New York, part of a planned 70 MW portfolio, came online.
The first completed projects are the 5.7 MW Bullis Road Solar project in the Marilla and the 4.9 MW Rock Island Road Solar project in Gouverneur. Two additional community solar projects, Slayton Settlement Solar A & B, in Lockport, will begin construction by the end of the third quarter of 2022.
Renewable Properties makes it a priority to work closely with the communities where the projects are located. In the Slayton Settlement portfolio, the community was concerned that placing the projects on a third-generation organic dairy farm would lead to a loss of agricultural production. To address these concerns, Renewable Properties has committed to building the site as an agrivoltaic project that will employ the sheep farmers in the area to manage ground cover vegetation. Renewable Properties also designates part of the solar park for beehives. These additional measures will support the cultivation of honey, wool, lamb and other related products in the region, increasing the agricultural production value of the property. In addition, the project will enable the landowner to keep the farm in his family. When completed by mid-2023, the two Slayton Settlement arrays will also improve network infrastructure reliability, deliver renewable energy to community subscribers and advance New York State's aggressive renewable energy targets.
"We're proud to serve New Yorkers with a growing pipeline of community solar projects that help everyone everywhere benefit from local clean energy," said Aaron Halimi, founder and president of Renewable Properties. "These solar projects will also benefit the landowners where they are located through lease payments, as well as the surrounding communities with taxes, jobs and other economic benefits."
Renewable Properties, owner of the projects, worked with Borrego to build the Rock Island project and United Renewable Energy (URE) on the Bullis Road and Slayton Settlement projects.
Another 9.3 MW of community solar projects in Batavia and the village of Minoa are expected to be announced by the end of the fourth quarter of 2022. Renewable Properties has an additional 40 MW in earlier stages of development in the Marilla, Vestal, Oswego, Valatie and East Syracuse, areas of New York.
News release from renewable properties