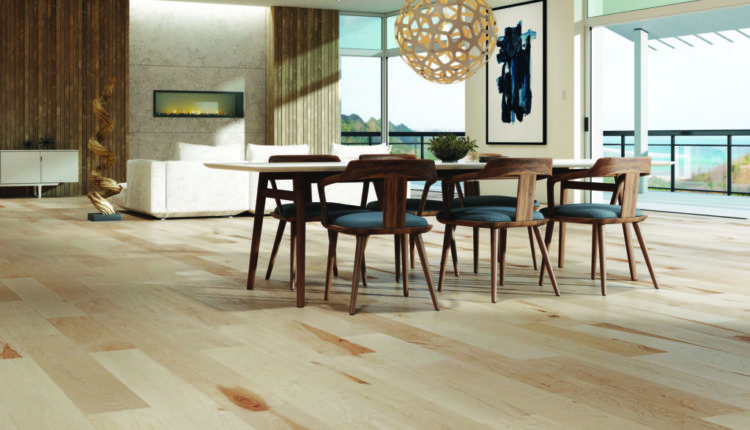 Real Wood Coalition, part 18
IIt's no secret that hardwood floors face stiff competition from alternative categories designed to rival real wood. However, one of the many advantages that real hardwood offers over comparable products is the ability to generate higher profit margins and higher sales dollars for the specialty retailer.
"Buyers purchasing larger, higher-end homes choose hardwood floors for their natural beauty, quality finishes, and products that add value to their home," said Pat Oakley, vice president of sales and marketing at Mullican Hardwood Flooring. "The high-end in both new home construction and the remodeling market is very strong for hardwood these days."
Hardwood flooring enthusiasts agree that the demand for quality wood flooring products among today's consumers is directly related to the fact that people spend a greater proportion of their disposable income on home improvements than on travel and entertainment. "It's clear that people are spending more time at home and want quality products," Oakley added. "Wood is warm and natural and has a classic look. Over the years, other products have captured attention and market share, but wood is a long-term investment and still the only product we see as adding value in the residential resale market."
Other suppliers agree that strong housing demand is driving sales. "We have a very strong housing market right now," said Wade Bondrowski, US sales director, Mercier. "If you look at the number of houses that are changing, people are moving to new houses and adding their own styles. We see that market and new construction as the two driving forces."
Brad Williams, vice president of sales and marketing at Boa-Franc, maker of the Mirage brand, agreed. "New construction of single-family homes and replacement of homes are driving growth in the hardwood category," he said.
This activity, vendors report, is not restricted to selecting applications. Suppliers are even seeing a positive move beyond renovation. "Our business is usually much more focused on home replacement, but we're honestly seeing good demand in all those segments of the home improvement market," said Jodie Doyle, vice president, sales and marketing, US, Indusparquet. "In the commercial contract segment, we are experiencing a very high demand for products for specification."