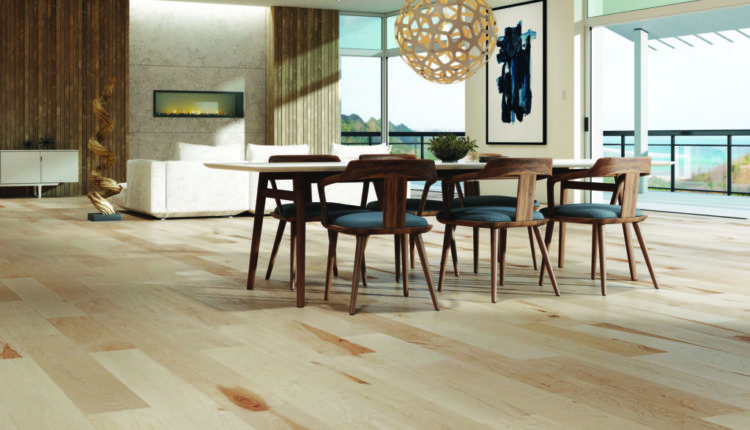 Real Wood Coalition, part 17
Following is the 17th edition of Real Wood Coalition's editorial coverage, also featured in the November 1 print edition of FCNews.
These features include educational insights, new and important hardwood products, and a spotlight with one of the coalition members. A new edition of RWC coverage will be available in every print issue of FCNews throughout the year.
---
DID YOU KNOW
The trick to selling waterproof wood is meeting high customer expectations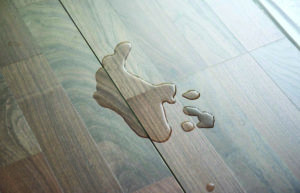 The concept of waterproof floors, whether hardwood, SPC/WPC or hybrids with a rigid core and wood, is really resonating with consumers. For proof, just look at all the advertisements and signage in store, online and on TV touting the resistance of floors to moisture ingress. As if that weren't enough, many consumers in the flooring market today expect their new floors to perform well in any installation scenario.
The key to responsibly promoting waterproof floors, experts say, lies in proactively managing customer expectations. "The problem for retailers is that what waterproof means to consumers and what it means in terms of warranties are two completely different things," said Penny Carnino, COO at Grigsby's Carpet, Tile & Hardwood in Tulsa, Oklahoma. times they only hear 'waterproof' and no matter how many times we explain it [applies to] they do not hear current leakages."
In today's hyper-competitive environment, it's not uncommon for consumers to expect their new floors to withstand spills and minor household accidents. However, in extreme cases, such as a flood, every floor must be replaced.
The truth is that innovations used in today's 100% solid or composite hardwood or hybrid floors help address some of the common accidents and spills. A good example of this are the Hearthwood brands and American OEM brands that were recently acquired by AHF Products. According to Don Finkell, vice president at AHF, these products are made with a six-sided coating system called WetWorx Splatter and Spill Guard. "Compared to an untreated parquet floor – after three days of under-
mersion in water — water absorption is reduced by 250%," he explained. "More importantly, after the floor dries out, you don't see the effect of the water on the WetWorx-treated sample, while the untreated sample shows water damage."
Waterproof wood can be considered new territory for hardwood floors; however, suppliers are confident that their products will withstand the claims. "Wood floors have been used for centuries, and until now they weren't very resistant to water," says Finkell. "But with improved technology, it's now available, so why not get it?"
---
SALES TIPS
Dealers score with Somerset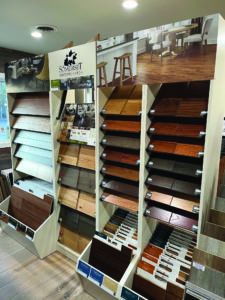 Greg Bruce, the owner of Fredericksburg Hardwood, a Virginia specialty retailer, has been selling the Somerset Hardwood brand for at least 15 years. If you've been working with a particular supplier for that long, there's usually a very good reason for it.
"It's domestically made, the quality is great and you can make a really good margin on the product," said Bruce. "We always make sure we have Somerset products in stock in our warehouse."
Some of Fredericksburg Hardwood's top sellers in the Somerset line are the Character Collection, in both engineered and solid sizes, as well as the popular Handcrafted Wide Plank offering. "It's not always easy to get a customer to upgrade to a 61⁄2 or 7-inch wide product and get a good feel for the installation," Bruce noted. "But with Somerset's Handcrafted product it is possible. The line is doing very well for us."
Another longtime Somerset dealer is Kevin Daniel, owner of Heartland Hardwood, Knoxville, Tennessee. Like Bruce of Fredericksburg Hardwood, Somerset's extensive product range is the clincher. "We like the different options they offer," he explained. "A lot of their products come in both engineered and solid platform, and their engineered platform has a 3mm wear layer on it – something I really like."
Both retailers say Somerset's extensive range offers many opportunities to renovate many areas of a customer's home – not just a room here or there. "Somerset installations are going into whole houses in our market," said Bruce. "In fact, we do more whole houses with Somerset than single rooms."
While Somerset's extensive portfolio covers all layers in the good/better/best spectrum, it's that mid-to-high range that really pops. "I don't really sell their entry-level products," Daniel said. "Occasionally we sell the usual gunstock oak and butterscotch colors, but most of the things we move for Somerset are wider plank upgrades."
Bruce agreed. "Somerset has a pretty wide range of mid-range products – not a lot of cheap stuff. But it's all quality driven."
---
TRY AND TRUE
Castilian from Mullican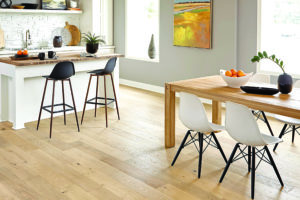 Mullican's Castilian collection is precision crafted from the finest European white oak; this collection comprises four different series and is offered in wire-brushed, hand-sculpted and weathered surface treatments. The Castilian collection is available in 16 colors and offers widths of 6.61⁄2, 7, 71⁄2, and nearly 91⁄2 inches. All products have a 50-year wear guarantee.
---
NEW AND REMARKABLE
Mirage rocking horse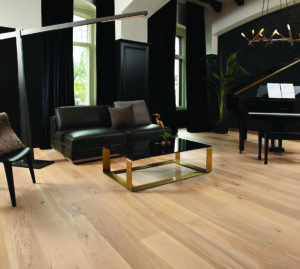 Rocking Horse brings a subtle variation of the popular natural white oak visual. This new color from Mirage offers consumers an image that is still popular, but with a little twist to set it apart from the vast majority of white oak floors on the market, the company said. Rocking Horse is part of the company's signature Sweet Memories Collection.
Want to sell more wood? put it down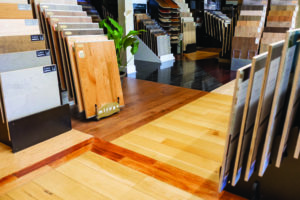 It's pretty much a given that if you want to effectively promote hardwood floors in your store, the product displays you wear should not only be "front and center", but they should also offer a wide enough selection for a variety of end user needs. However, it is not the only way to draw the customer's attention to the hardwood flooring department.
At Richmond, Virginia-based Costen Floors, which counts Bruce, Hartco, Mirage and Mullican among its vast hardwood offerings, the retailer uses the floor space to
addition to the standard upright merchandisers. "Our total square footage of our showroom is approximately 12,000 square feet, and within that space we carved a section where we installed 22 different types of hardwood floors," said Tripp Costen, owner. "It's hard to sell wood from a sample alone; you have to have it on the floor."