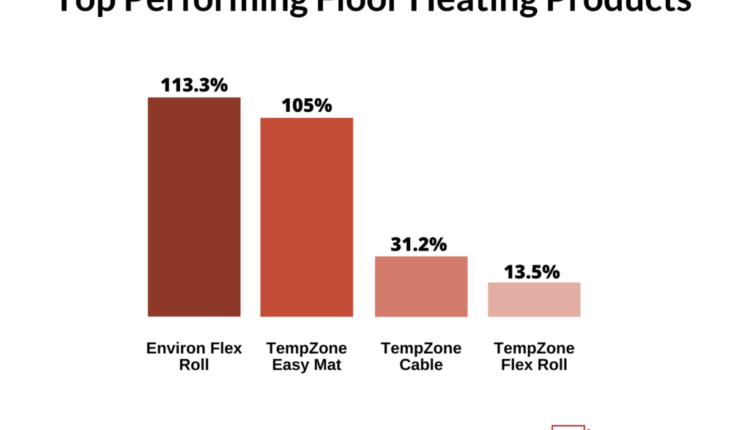 Radiant heating sales reach new levels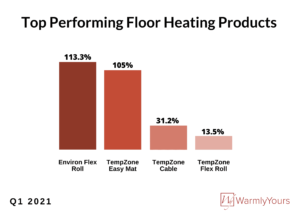 Lake Zurich, Ill. – Radiant heating sales in the first quarter reached a growth not seen in more than a decade, according to the "Q1 2021 Industry Report" from WarmlyYours – a manufacturer specializing in electric underfloor heating. The quarterly report analyzes sales of radiant heating products in the context of the national housing and remodeling markets.
One of the main conclusions of the report was that sales of underfloor heating were 31.1% higher than in the same period last year. The main underfloor heating products driving the increase in the first quarter of 2021 were Environ Flex Rolls (+ 113.3%), TempZone Easy Mats (+ 105%), TempZone Cables (+ 31.2%) and TempZone Flex Rolls (+ 13.5%).
Julia Billen, owner and president of WarmlyYours, said she believes one of the key drivers of underfloor heating growth is increased optimism about the global pandemic. "I think a lot of people are starting to see light at the end of the tunnel as the number of cases continues to decline," she said. "That positive energy has to go somewhere and for many homeowners that has turned into a renewed focus on home improvement projects. And now that consumers are more aware of underfloor heating, we have seen many of those home improvement projects with underfloor heating systems for the first time. "
Another finding in the report focused on shifts in floor coverings in conjunction with underfloor heating. While tiles (+ 11.7%) will probably always make up the lion's share of underfloor heating projects (typically about 88% of projects), it made up only 80.7% of projects in the first quarter. Vinyl floor coverings, particularly luxury vinyl tiles and planks, have grown in popularity in recent years and, according to the report, these coverings made up 5.5% of all floor heating projects in the first quarter.
Butts said she thinks the shift in floor coverings could be a permanent change. "Tile will always be king in terms of total sales, but other flooring materials such as LVT and composite wood will play a critical role in the future," she said. "Especially because underfloor heating is being used in more and more rooms outside the bathroom and kitchen. Our ultimate goal is to make electric underfloor heating a luxury for the whole home. "