Quanex invents moisture-protecting butyl rubber sealant for solar panels
Quanex has released a new solar panel moisture protection that solar panel manufacturers can apply during the final manufacturing process. SolarGain Edge Sealant LP03 is a polyisobutylene butyl rubber adhesive with integrated desiccant.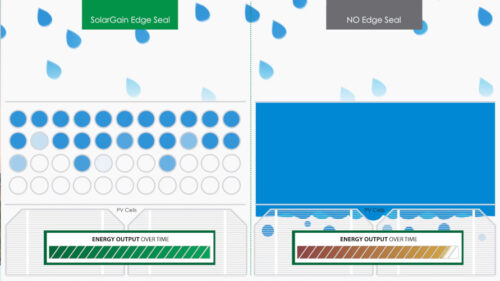 Quanex said SolarGain Edge Sealant may be especially helpful as emerging technology trends (such as perovskite and heterojunction designs) have shown a need for higher levels of moisture protection.
Solar panel manufacturers often turn to ethylene-vinyl acetate (EVA) encapsulating agents, but Quanex said in a press release that EVA has the potential to generate acid that can reduce solar output because of the acid's corrosivity when used over time. exposed to moisture. Alternative encapsulating agents such as thermoplastic polyolefin (TPO) and polyvinyl butyral (PVB) have also shown a higher ability to resist moisture ingress compared to EVA, but are significantly more expensive and more difficult to handle during the assembly process.
By helping to prevent moisture from entering solar panels, SolarGain Edge Sealant helps better protect cells, compounds and conductive coatings to maximize performance and longevity. Quanex suggests that an extra life of 10 to 15 years can be added to a solar panel using the sealant.
SolarGain Edge Sealant is backed by Quanex's 50 years of experience in insulating glass (IG) manufacturing and spacer manufacturing, designed to slow the ingress of moisture between sheets of glass. These IG solutions must exhibit many of the same properties required in solar module sealants, including UV resistance, flexibility through a wide variety of temperatures and the ability to slow moisture migration.