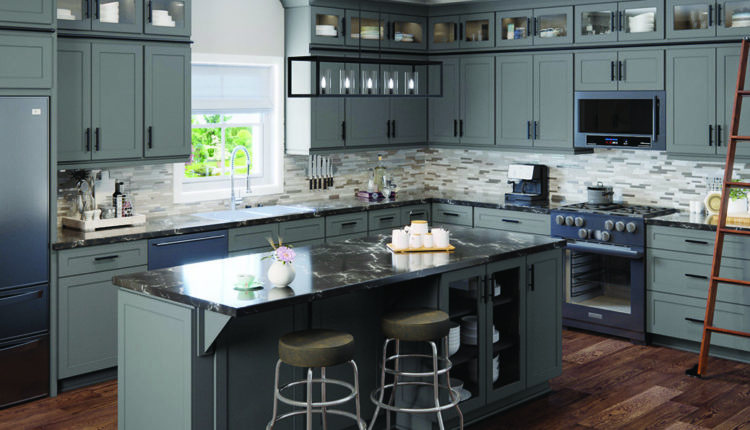 Profit opportunities with countertops, cabinets, blinds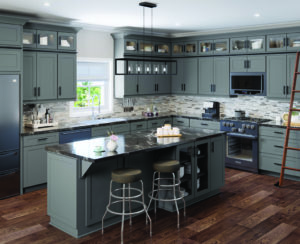 By Megan Salzano Birch—While the retail landscape has been anything but predictable, the past two years did provide seemingly endless demand and, thus, growth potential for dealers. Still, those looking to expand that potential even further might consider diversification—perhaps with countertops, cabinets and blinds—as a means to that end.
FCNews spoke with several dealers across the country who have diversified product offerings to gauge the strategies that work best for them.
---
Al Capaul, owner,
Capaul Floors and Cabinets, Mauston, Wis.
Product offerings: flooring,
window treatments, cabinets, countertops
"I decided to diversify my offerings because of my background. I used to run a cabinet department for a large home improvement store; ever since then I wanted to offer cabinets in our own store. In 2010, I finally was able to do that. I had to wait until my father retired in order to expand into other products. We now have three locations and they all offer diversified products."
The HOW
"We implemented the changes by adding samples and vignettes and then getting the sales reps to come and help train. You have to really make that commitment because the training takes time and needs to be repeated. Also, you have to hold to the change because there will be some resistance from staff."
The RESULT
"The change has been a successful one. Our sales have increased by approximately 20% since adding cabinets, and we are still growing. I believe the diversification has been successful because it gets customers to our store who want one-stop shopping. They like to be able to buy cabinets and counters at the same place, or the flooring and cabinets at the same place. I like being more than one dimensional and I believe our customers do, too."
---
Matt Bliemeister, owner,
Cincinnati Floor & Window Coverings, Loveland Ohio
Product offerings: Flooring, window treatments
"To me, window blinds are a natural fit. If you're doing flooring, you're measuring and you're working with style and color. So, it's a natural fit in terms of your daily activities and skills. From a customer standpoint, if we're remodeling or building a new house, they're probably going to need window blinds. From a labor shortage standpoint, if I sell $10K worth of tile or hardwood, we're there for two weeks; if I sell $10K worth of windows blinds, it's six hours—it's a simple product and simple to install."
The HOW
"I've never had a separate salesperson for window blinds vs. flooring. It's really been more of an add-on business for me. However, if you want to grow that portion of your business you could add more sales staff and focus on that business. But this is the way I do it, and it works. I have four new construction builders who I sell $80K worth of flooring to and then $10K-$20K worth of window treatments afterward."
The RESULT
"The margins are as good or better than flooring. And the industry makes it easy for me to work with them. It's technically savvy and I think it does a better job of training than in flooring, which makes it easy to work with. Plus, it's not a big investment. To have the samples updated it's about $3,000 per year; with flooring, that's just one display. It's a very low-cost business to get into; so, if you wanted to add it, there's minimum cost to doing so."
---
Sam Kaufman, owner/CEO,
On The Level Kitchen and Bath, Charleston, SC
Product offerings: Flooring, cabinetry
"My personal background is in cabinet installation. That's how I got into business to start with. It doesn't take long to learn that the money to grow a company is in product sales and when you start dissecting the inside of somebody's house, every cabinet sale equates to a flooring sale—for whatever reason they go hand in hand. And it's a one-stop shop for our customer."
The HOW
"Do not assume that your existing operating procedures will automatically translate to a different trade and product. Be aware, you will have to make an investment into another operating procedure to sell cabinets. They're different sales strategies; they're different processes of ordering and delivering the service. The installers have different expectations, pay rates, wants and needs. It's similar enough that if you nail it, you can do very well, but just be prepared for the time and capital and investment that it actually takes to diversify."
The RESULT
"I don't sell a product. I sell my team and that's our selling story. And our margins are probably higher than most. Our markups are minimally 100% on every product. I know flooring is tricky, but it should never be less than 45%-55%. And cabinetry is 50%-60% with ease. But the margin is not what we go and buy boats with; it's what we turn around and reinvest into the leadership and training of our people. And the more training that our people have, the better service our customers get and the more our business grows anyway."
---
Jestin Kemp, president,
Infinite Floors and More, Burnsville, Minn.
Product offerings: Full kitchen/bath remodeling
"We like to distinguish ourselves in our market as the best flooring and tile shop around. We go after high-end customers. The only way to score the high-end customer directly is to have a further offering of designing the project, contracting the project and offering a full package deal."
The HOW
"Do market research and find the right contacts for any additional labor and materials you will be offering. Shop other local companies and figure out the sweet spot to make sure you can make a profit on the added services and products. We had the contacts already and skipped the market research, so we paid for it in the beginning and lost time and money. Educate yourself and your staff on the added items and how to cross sell. Time is money and diversification is not for everyone."
The RESULT
"Diversification has helped us keep a streamline of small and larger projects flowing. It also opens up conversation when we look at flooring-only leads to further benefit the customer and our sales staff and give them a reason to do business with us. This provides a one-stop shop that they are going to get the best products and services available. In 2021, it helped us grow our business in the direction we would like to go. 2022 will be better than ever."
The post Profit opportunities with countertops, cabinets, blinds appeared first on Floor Covering News.