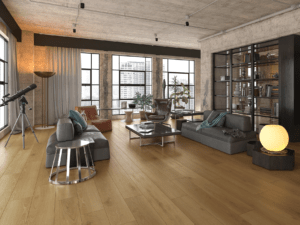 Private-label programs prosper – Floor Covering News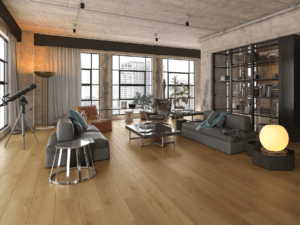 sOme say Millennials ushered in the real era of private label with their nuanced desire to eschew the brand names of yesteryear and carry little-to-lesser-known brands as long as the price, quality and social responsibility were right. Whatever the reason, private label brands across all industries have been experiencing tremendous growth lately — Costco's Kirkland brand, for example, had a staggering $6 billion in sales in 2022.
It is no different with floors. But the shift is not without reason. Today, private label programs offer a variety of benefits to both distributors and retailers, as well as the manufacturers supplying the product.
Tri-West, for example – No. 2 on FCNews' annual Top 20 Distributors List this year with projected sales of $400 million in 2022 – uses private label products in a variety of categories – primarily through its own brand names. "Private label allows us to choose specific colors, specs and technologies and we can really tailor the product to our geographic location versus branded products that don't necessarily fit what we need," David White, vice president of sales and marketing, Tri-West , Ltd., told FCNews.
Through the distributor's Paradigm brand, Tri-West can regularly supply its retail partners with top products. "It allows us to work on the most technologically revolutionary products on the market," White noted. "We talk to factories on a weekly basis – if not a few times a week – to try and come up with the best. We're aggressively looking for that and when we find it, we just plug it into one of our private label brands – rather than wait for one of the national brands to come up with something."
Galleher no. 3 on FCNews' annual Top 20 Distributors list this year with projected sales of $330 million in 2022 – features three primary private label brands, each designed to meet the needs of different customer segments: Monarch Plank, Reward Flooring and GemCore. "Each brand meets a unique need across the spectrum of residential and commercial customer segments, allowing us to focus our marketing messages on those key relevant benefits that drive buying interest," said Jim Harrington, vice president, marketing and brand strategy. FCNews.
Harrington added that the distributor is working hard to identify the purchase motivators for consumers purchasing flooring products from independent retailers to best meet the needs of its partners. "Whether it's a particular color, texture, finishing technique or price range, our own brands are designed to deliver benefits that meet consumers' unmet flooring needs. As a result, our retail partners can be confident that offering one of our own brands will increase buying interest and ultimately lead to a sale (and a happy customer)."
Benefits galore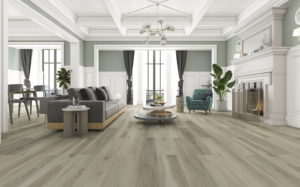 But a hot new product tailored to a retailer's individual market isn't the only advantage of private label. Retailers also receive price advantages, distributors note. "What I discovered while touring is that some of the major suppliers have different pricing structures," said Tri-West's White. "The real big retailers actually get a great deal at those prices and then the rest of the dealers pay a higher price. At the end of the day, they take very little margin on the big guys, a lot more margin on the medium-sized retailers and then the small retailers pay even more. The advantage of private label is that everyone is on the same playing field. They have a better chance of getting the job and making a profitable sale with private label lines."
Private labeling also makes it harder for retailers to be shopped by consumers (or their competition). "Sellers" [seldom] confront a customer with a smartphone that beats them up based on a website that may or may not be able to secure a branded product, but has nevertheless influenced the conversation," Scott Rozmus, President/CEO, FlorStar Sales- no. 15 on FCNewsAnnual Top 20 Distributors List This Year with Projected Revenue of $148 Million in 2022—Told FCNews. "Yes, such cases can also occur with private label as some websites appropriate images and even names without permission, but there is less noise with private label meaning the work the retailer has done to get a consumer to help, more likely to pay. discount in not just a sale, but a sale more on the retailer's terms."
The private label process has also evolved over the years. Distributors agreed that the relationship with the private label suppliers has grown, which now represents a true partnership that benefits all involved.
"Nowadays we have a lot of input on what they're marketing; while before they launched a collection and we didn't have any input as far as design goes," said White. "I think [suppliers] realized that one size doesn't fit everyone. With our manufacturers, we are now choosing products that work really well in our geography, in trends that are popular or trends that we think are imminent."
Galleher's Harrington agreed. "Instead of a typical manufacturer-distributor relationship, we enter into a real partnership with our production partners. And this close collaboration with our manufacturers allows us to focus on providing the highest quality products at a competitive price for every segment. Our in-house product development team works closely with our manufacturing partners and the interior design community to ensure products within our brands reflect the latest trends to provide multiple options for our customers."
Rozmus of FlorStar Sales added that private label brands also benefit suppliers who would otherwise not be able to effectively sell their own products. "Some suppliers don't have the resources or interest to market their items," he explains. "They just want to make good products and leave the marketing and sales to someone else. Private labels can also allow a brand supplier to diversify its offering or its channel without disrupting existing models. Private labels can also help segment certain offerings to avoid channel confusion."