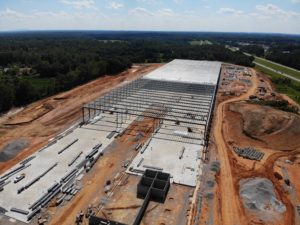 Portobello America tile factory to open in early 2023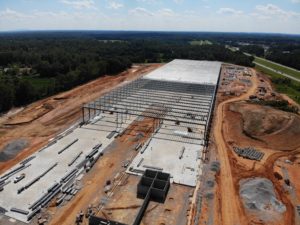 Baxter, Tenn.—Portobello America's full-service, state-of-the-art tile manufacturing facility located here is expected to be operational early next year. The new factory is now expected to create at least 230 local jobs.
"Everything is on track and we expect a launch in March or April (2023)," said James Durbin, vice president of manufacturing and outsourcing. "From day one of production, the new plant will be able to double the originally planned capacity of smaller pieces such as 8×8, 3×6, 3×12 and everything in between. There is strong demand from our North American clientele for these to complement some of our best-selling porcelain collections. The pieces will be produced with the same body materials as in our field tile ranges, such as Terralma and Gouach, and will look just as high-end."
The new facility will not only be a major sustainable manufacturing site, it will also be the new home of the Portobello America North American offices. Baxter is located in Putnam County, which is considered a national center for porcelain tile production due to the local availability of natural clay and feldspar supplies.
"Our new factory will be fully automated with state-of-the-art technology," said Durbin. "This includes laser-guided systems, automated packaging and palletising, robots that move materials from one part of the factory to another and much, much more. It is clear that we still have a lot to achieve for our startup, and we will get it done!"
Portobello America's parent company, Portobello Group, a leading producer of porcelain and ceramic tiles in Brazil, announced the new factory in October 2021.
At the time, Portobello Group CEO Cesar Gomes noted, "Growing and developing in the US market, integrating local culture, generating employment and investment as a result of 'manufacturing-to-partnership relationships' with distributors is what is leading this new challenge. We are proud to present the new Portobello America factory in the US soon.We believe in the strategy, the market potential and above all the combination of our know-how with the US team and the culture."