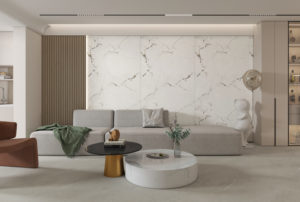 Pelican Creations Home: People & product first
fSince the founding of its parent company, Pelican Creations, owned and operated nearly 25 years ago, Pelican Creations Home has made a name for itself in the ever-crowded flooring market by offering a variety of popular product categories and exceptional customer service to its trading partners.
Since its inception and growth since then, the brand's goal has not changed: to create progressive programs for its partners that simplify the sales process. "We have grown tremendously since 1999 and continue to innovate and find new ways to bring style and modernization to our customers," said Mike Poulin, president of Pelican Creations Home. "Our more than 15 years of experience in the flooring industry has enabled us to gain a certain level of expertise in identifying the flooring needs of the average consumer. We make sure to provide this invaluable experience in building a program with retailers and distributors. By choosing the right specifications, color and technology based on past and current consumer needs and flooring trends, retailers can be confident that our programs will translate into sales."
What's more, while Pelican Creations Home may be growing, the company is still a family business, bringing great benefits to its retail partners. "I'm sure any family business will tell you they have their ups and downs, but we feel truly blessed to not only be able to work in an industry we are so passionate about, but also share it with our loved ones," said Michael Poulin, vice president of Pelican Creations Home. "We also all come from different backgrounds, so we bring a different perspective to the table, which is very helpful when brainstorming new innovations."
Product quality
One of the main pillars of Pelican Creations Home is its competence with products. The company relies on its industry experience to guide its design process – all with the goal of providing the best programs for its customers.
"We offer a combination of high-quality products at a fair price, which is a win for retailer and consumer," explains Yuni Choi, vice president. "We offer vinyl (SPC, WPC and LVT), laminate (standard and water resistant), composite hardwood and carpet tile. We do this so that we can offer our customers a variety of options to meet their needs and a huge range of styles and colors to match their personality."
Michael Poulin added that the company is working hard to stay at the forefront of flooring trends and innovations. "There are countless flooring manufacturers and suppliers in the industry, [which makes] it is difficult to distinguish apart from the typical factors such as price and color. Instead, we took the proactive approach by developing a new category of vinyl flooring in collaboration with Unilin Technologies, called CushionTech with Comfort Core technology."
The company's CushionTech with Comfort Core technology features an innovative and patented layer that combines optimal proportions of vinyl, EVA pad and SPC thickness to deliver the most comfortable and quietest floor covering, without sacrificing the benefits of standard vinyl floors, said Choi. After more than two years of rigorous research and testing across China and Europe – and a worldwide patent – the technology was unveiled on Surfaces 2022.
Most Pelican Creations Home products come with lifetime residential and 10-year light commercial warranties.
Customers respond
With a decade and a half behind them, Pelican Creations Home has partnered with floor dealers and wholesalers who don't have to work hard to promote the benefits of the collaboration.
"We've been with Pelican for over 10 years," said John Sturla, co-owner of Medallion, a distributor serving the markets in California, Hawaii and Nevada. "They consistently bring ideas, products and solutions to our company. They have a variety of products that we have sold over the years that are unique and I could not find myself. They help us with sourcing, which is extremely valuable to us."
Bill Schollmeyer, vice president, Wego International Floors, Great Neck, NY, is a new partner, but agrees that Pelican is something unique. "We've been working with them for about eight months now and one of the key benefits of working with them is that we have access to their CushionTech product," he shared. FCNews. "It's hard to monetize SPC these days, so for us it's an extremely unique product that's a little different from all the other SPCs on the market. It is a non-commodity item with some real selling points. They have a long-term vision of growing the business rather than 'let's sell containers'. They've listened to what the market is asking, what's missing, and they're helping us develop the marketing and merchandising tools to enter that market. It is a real collaboration with them."
In addition to the product, Schollmeyer said working with the people behind the product is a real pleasure, which is hard to find. "I wouldn't even call it customer service; I'd call it customer service," he explained. "They are great to deal with. Yuni is simply a pleasure to work with. She is thorough and professional, and so is the entire team. That's it for us: a unique product and a great collaboration."