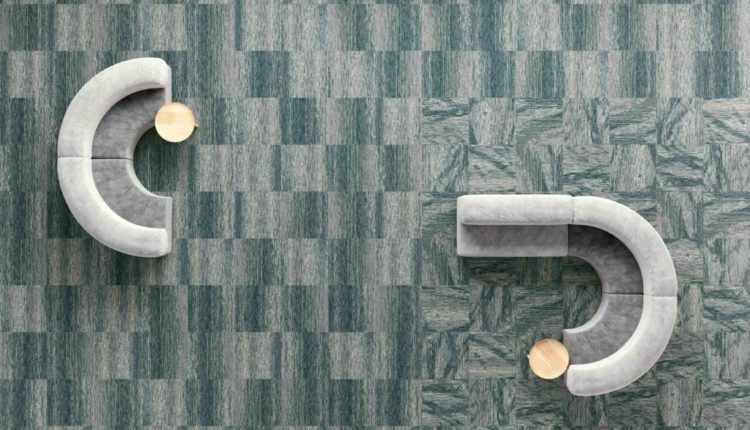 Patcraft launches States of Water, Textile Technique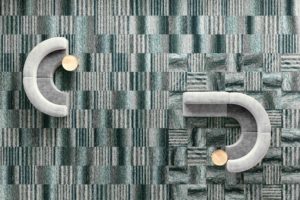 Cartersville, Georgia – Patcraft introduced its latest collection of soft surfaces, "States of Water", and a new collection of carpet tiles, "Textile Technique".
States of water
The company said the States of Water collection is inspired by the images of water in solid, liquid and vapor form. Within the three styles of the collection, the soothing patterns and sophisticated colorways are designed to enhance a calming aesthetic, Patcraft added.
"Water in its different states creates color in interesting ways," said Ashley Weaver, product designer at Patcraft. "I was especially curious about the formations of the glaciers in Greenland, attracted by their curvature and dramatic hues. Studying the movement of the water in these images – the depth and color changes – we experimented with color and pattern, determined to mimic the movement in a gentle shift across the floor. "
Patcraft said Weaver and the design team worked closely with the production, and by experimenting with samples and color combinations, the team explored new ways to replicate the movement seen in the images – playing with scale and texture. Available in 24×24 carpet tiles and 11 colorways, including six bright and five neutrals, the styles aim to create transition and movement across the floor, Patcraft said.
The States of Water collection includes three styles: Glacial Ice, Tidal and Vaporous. According to the company, Glacial Ice has a large-scale pattern inspired by the dimensions seen in the cracks and crevices of ice formations. With a subtle texture and smooth gradient, Tidal is designed to capture the essence of pounding waves. A mid-scale pattern inspired by vapor and mist, Vaporous aims to provide movement and depth for comfortable spaces.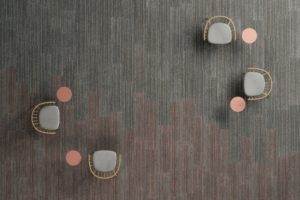 Technical textiles
The Textile Technique collection is available in 12 x 48 planks and two styles. The saturated hues are combined with rich neutrals to provide balance across a range of colors, the company said. Textile engineering incorporates a studded, textured pattern that is ideal for creating comfortable spaces, added Patcraft.
"Visual and tactile texture is key to creating a space that feels calming and inviting," said Ron Powell, senior product designer, Patcraft. "We used high contrast yarn to give this rich texture to the design, blending color palettes together to evoke a sense of establishment."
Patcraft said Textile Technique has 12 colorways inspired by modern color combinations. The collection combines shades of pink, lemon and emerald with soft, tonal neutrals to create subtle movements across the floor, the company said. The collection's two styles, Interlock and Selvage, are designed to coordinate to define space and improve connectivity. The collection has both a large and a small-scale pattern. The texture designs are infused with color to create spaces of experience within the built environment.
Made with EcoSolution Q nylon and EcoWorx backing, States of Water and Textile Technique are Cradle to Cradle Certified Silver. As a carpet tile with EcoWorx backing, the collections can be recycled and then reprocessed into EcoWorx floors[TURN] Reclamation Program, the company said. Products are backed with a limited lifetime warranty against stains, color fastness to light, static and abrasive wear for maximum performance and appearance.