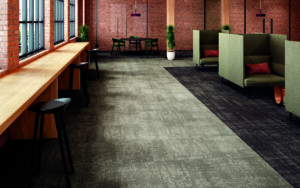 Patcraft introduces Reverse collection – Floor Covering News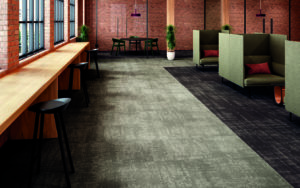 Cartersville, Georgia—Patcraft, a leader in high-performance commercial flooring, has introduced its first Cradle to Cradle Certified Gold (V3.1) collection, Reverse.
A modular collection designed to reflect Patcraft's commitment to and support for sustainable practices, the Reverse collection uses a carefully curated selection of materials to meet rigorous standards for sustainable products. Gold-level certification means this collection achieves even stricter performance standards for material health, product circularity, clean air and climate protection, water and soil management, and social justice.
"For over 20 years, we have continued to expand our commitment to the Cradle to Cradle philosophy, with nearly 90% of the products we produce today being Cradle to Cradle Certified Silver or Bronze," said Shannon Cochran, Vice President of Marketing and design for Patcraft. "As we push ourselves to innovate both our products and processes, we are excited to launch Reverse as it embodies our commitment to sustainable design and a design process that connects our inner spaces to our outer world."
With three styles available in versatile neutral color palettes, the collection includes a tile with 12 x 48 color points with intersecting, perpendicular elements that create a textured visual, as well as two 24 x 24 visuals, each offering small to medium-sized patterns. The functionality of the styles within Reverse makes them suitable for a variety of end-use spaces, especially those that want not only beautiful, high-quality floors, but seek products that are considered safe and sustainable through the Cradle to Cradle Certified Products Program.
The Reverse collection is made with EcoSolution Q100 yarn, a yarn system that provides 100% post-industrial recycled material dedicated to waste minimization and collection efforts. The use of this yarn in combination with the EcoWorx backing results in a lower overall environmental footprint of the product, which is reflected in the EC3 tool. Products are manufactured with an EcoWorx backing, which can be recycled at end-of-life and sent through Patcraft's re[TURN] recovery program.
The Reverse collection is carbon neutral through the purchase of verified carbon offsets and is manufactured in a carbon neutral production facility. Products are backed by limited lifetime warranties against staining, color fastness to light, static and abrasive wear for maximum performance and appearance retention.
"As a brand, we strive not only to provide products designed for people and the environment, but also to seek opportunities that show how we as individuals can make a positive impact," said Cochran. "We are proud to announce that Patcraft, which is co-launching with Reverse, is joining the Fill It Forward campaign to eliminate disposable bottles and help fund water projects around the world."