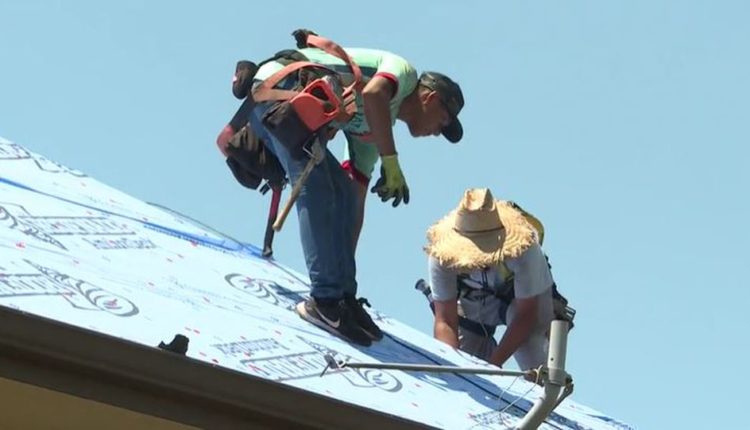 Outdoor workers take extra steps to stay safe in dangerous heat
WICHITA, Kan. (KWCH) — While triple-digit heat isn't new to Kansas, it's usually not expected until later in June or early July. The summer heat comes as no surprise, but it still takes extra effort for outdoor workers to stay safe. On Thursday, the first 100-degree day for the Wichita area since last August, Eyewitness News spoke with a handful of people who work outdoors, including food truck employees and roofers.
At the U-Hungry Food Truck in downtown Wichita, owner Arturo Ray said the keys to staying cool are to drink plenty of water and run "a bunch of fans" inside the truck.
There's an added challenge for roofers who don't have the benefit of fans or shingles shade protection, operating in direct sunlight.
"Dark shingles will absorb more light, a lot more sun. You have temperatures on a black roof, it can go up to 160 degrees Fahrenheit," said Keeter Roofing and Remodeling Operations Manager Gavin Maloney.
Because the shingles are asphalt, the heat also makes them more malleable and workers must take extra care not to damage them.
"Something as simple as dragging your gear over it can stunt it and harm the product's livelihood," Maloney said.
For their own safety, roofers with Keeter have started early each day to beat the heat.
"You want to start as early as possible and avoid the heat of the day," Maloney said. "That applies to anyone who carries out a project."
Even starting well before the hottest parts of the day, he said frequent water breaks in the shade or in the air conditioner truck are important for workers to stay healthy.
"You can never be hydrated enough," Maloney said.
Copyright 2021 KWCH. All rights reserved.