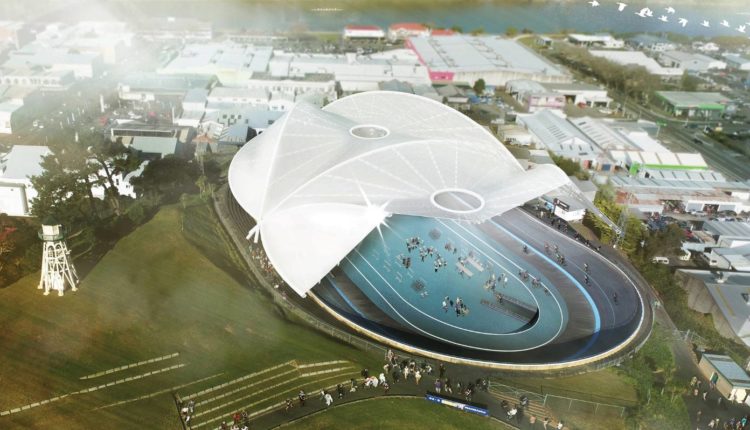 'One roof versus many roofs': Whanganui District Council puts housing before velodrome
Copeland Associates Architects
A 2017 artist's impression of the proposed roof over the Whanganui Velodrome.
An IWI leader says the Whanganui District Council has made the right decision by prioritizing the city's housing crisis over covering the weather-ravaged cycling track.
The council ditched its long-term $ 20 million plan proposal to save the 25-year cycle track on Tuesday in a 6-6 decision in which the mayor refused to use his casting vote.
Councilor Josh Chandulal-Mackay – born in 1995, the year the cycling track was built – said he struggled to make a decision, and it ultimately came down to setting priorities and needs. Housing was the most pressing problem facing the community in connection with growth.
"It's not about one roof, it's about many roofs. It's on the issue of housing, and I can't justify the level of spending we're proposing when we're putting just $ 4.2 million into this housing budget. "
READ MORE:
* Good Councilors: Stratford District Council votes yes to Māori Ward
* Councilors support Taupō ?? Māori rejects the decision as the lobby group presses down on the petition
* Shelly Bay still faces roadblocks, but Wellington City Council votes

Alderman Hadleigh Reid agreed, but abstained.
Before voting against the roof, Whanganui Mayor Hamish McDouall simply said, "Whanganui cannot afford $ 20 million."
According to the council's rules of procedure, the tied vote means that the motion is lost, and the mayor refused to use his casting vote.
Sports fanatic and Whanganui iwi leader Ken Mair said he understood the sports community's aspirations to save the site, but the city's severe housing crisis should take precedence.
"The municipality has made the right decision. You will hear the voices of some of our younger city councilors making it clear that the needs of the community must come first.
"And I think that's great, and we need to continue to find housing for our people who are in crisis."
Mair said the local Iwi and the municipality had discussed how to handle the crisis.
"There are discussions about housing needs for our people and for our community as a whole. We want to see quality homes and that in this community everyone has the right to a home. "