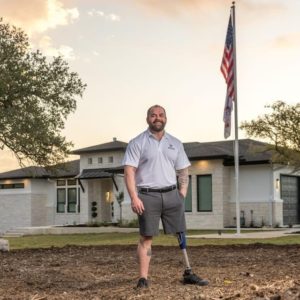 NWFA completes 65th R.I.S.E. home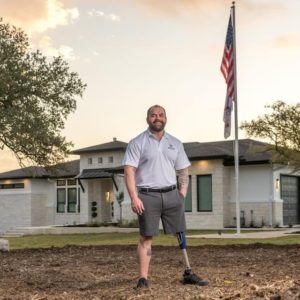 St. Louis, Mo.—The National Wood Flooring Association (NWFA) provided flooring for its 65th home in support of the Gary Sinise Foundation's RISE (Restoring Independence Supporting Empowerment) program. The RISE program builds mortgage-free, custom, purpose-built smart homes for critically injured veterans and first responders. According to the organization, the dedication of the home for U.S. Army Captain (Ret.) Derick Carver took place October 13 in New Braunfels, Texas, and the floor for the project was donated by NWFA member AHF Products.
In January 2012, while serving in the Arghandab River Valley outside Kandahar, Afghanistan, Carver and his unit met with local teachers and elders to discuss reopening a school rigged to explode with IEDs. On the way to the school, the group was ambushed by the Taliban. Carver's injuries included the loss of most of his right thigh, several fingers and his left leg.
"After multiple lifesaving surgeries, Captain Carver was transported to Walter Reed Medical Center, where he had to recover for 13 months," said Michael Martin, NWFA president and CEO. "During his stay with Walter Reed, he underwent nearly 50 surgeries, more than 50 blood transfusions and five plasma transfusions. After his clinical recovery, he returned to duty and assumed the role of AS-3 for the 4th Ranger Training Battalion. Today, he is retired from the military, competes in athletic competitions, and plans to continue his education by attending graduate school. We are honored to partner with AHF Products to provide beautiful wood floors for his new home."
In addition to the 65 homes already completed, NWFA said it is currently working with its members to purchase wood floors for 17 additional RISE homes in various stages of planning and construction. Currently, 143 NWFA member companies have donated product, logistics and installation services at locations across the United States, worth a total of more than $5.7 million, according to the organization.