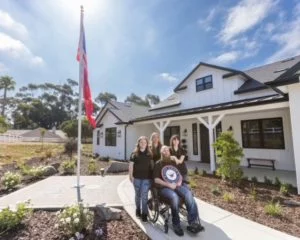 NWFA completes 63rd R.I.S.E. home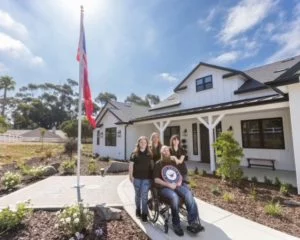 St. Louis, Mo.—The National Wood Flooring Association (NWFA) provided flooring for its 63rd home in support of the Gary Sinise Foundation's RISE (Restoring Independence Supporting Empowerment) program. The RISE program builds mortgage-free, custom, purpose-built smart homes for critically injured veterans and first responders. The dedication of the home for United States Marine Corps Staff Sergeant (Ret.) Stuart Dipaolo took place July 14 in Vista, California. According to the organization, the floor for the project was donated by NWFA member Mannington.
Sergeant Dipaolo joined the Marines in June 2004, two days after graduating from high school. After serving in Japan, he volunteered in support of Operation Iraqi Freedom and was stationed at Camp Taqaddam, Al Anbar Province. He was injured during a training exercise at Camp Pendleton in San Diego, California, in 2015 when his all-terrain vehicle lost control and rolled onto him, breaking his neck, shattering his head and breaking every bone in his face.
"Personnel Sergeant Dipaolo has undergone numerous major surgeries as a result of his injuries," said Michael Martin, NWFA president and CEO. "His left arm and left leg remain paralyzed, he lost his vision in his left eye and has limited vision in his right eye. Despite these injuries, he is determined to serve as a mentor to other wounded servicemen battling the physical and psychological wounds associated with life-changing traumatic injuries. We are honored to partner with Mannington to deliver beautiful wood floors for his new home."
In addition to the 63 homes already completed, NWFA says it is currently working with its members to purchase wood floors for 16 additional RISE homes in various stages of planning and construction. Currently, 143 NWFA member companies have donated product, logistics and installation services at locations across the United States, worth a total of more than $5.7 million, according to the organization.
A list of all NWFA RISE participating companies can be found here.