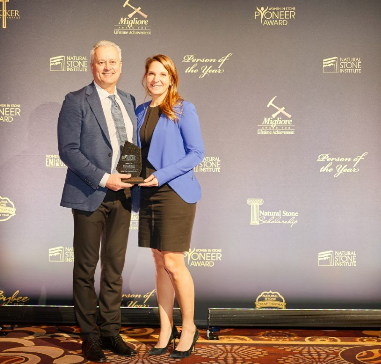 NSI names Person, Craftsman of the Year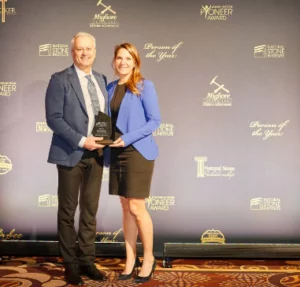 Oberlin, Ohio—The Natural Stone Institute presented its 2021 Person of the Year award to Michael Picco of Picco Group, and named John Cierech of Tennessee Marble Company its 2021 Natural Stone Craftsman of the Year.
The Person of the Year award is presented annually to an individual who has provided extensive support to the association's executive team during the year, according to the company. Picco served as the 2021 Natural Stone Institute board president, guiding the association through the second year impacted by the COVID-19 pandemic.
"It was remarkable to watch how he got involved and how he was engaged," said Jim Hieb, CEO, Natural Stone Institute. "There were committee meetings upon committee meetings that were conducted via virtual platforms, and Michael Picco was the pillar of participation, contribution and leadership. He was a tremendous influence on me and our staff this year."
According to the Natural Stone Institute, Picco championed the industry's sustainability initiative, helping give the Natural Stone Sustainability Standard relevance in the marketplace and positioning natural stone as a sustainable building material for the design community. "Sustainability is important to the design community and the natural stone industry has a big opportunity to leverage natural stone as the premier sustainable building product," Picco said. "We needed to seize this moment."
His long list of 2021 industry involvement also includes serving as a key contributor to the planned update of the Dimension Stone Design Manual, assisting in the development and launch of the "Achieving Green Building Goals with Natural Stone" CEU course and leading the strategic effort to develop Environmental Product Declarations (EPDs) for cladding, flooring/paving and countertops, according to the company.
Craftsman of the Year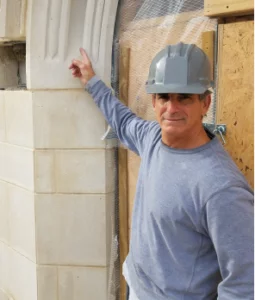 Cierech, who was named 2021 Craftsman of the Year, was 30 years old when he began his career in the stone industry. After serving in the military, he spent a short time in electronics before accepting his first full-time work with stone at Gawet Marble and Granite in Vermont. Gawet just had acquired some accounts from Vermont Marble Company after they closed their doors.
"There was a huge demand for craftsmen to service these accounts," Cierech explained. "Fortunately for me, there were a number of skilled craftsmen in the area who would circulate through the company and I was able to pick up on their skills to develop my own."
Cierech said he would spend the next 32 years honey his stone skills, passion and craft, eventually advancing to more detailed work, including V-sunk lettering and intricate carving, especially on memorials. He said he attributes his interest in this work to an appreciation of the stone carving history of the area's memorial art.
"I feel so fortunate that John reconnected with us at our factory in Tennessee," said Monica Gawet, president, Tennessee Marble Company. "To remember him when he first started his career working with my father in Vermont and then to work with him 40 years later at Tennessee Marble was very special for us as a family."
Cierech said receiving this award means a "great deal." "Knowing that there's a huge interest in the work that an individual does in the industry is a great incentive for the craftsmen to strive to achieve their finest work."