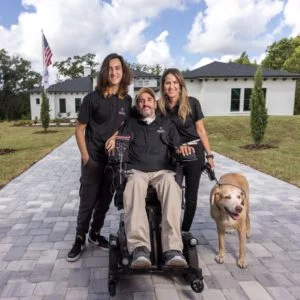 NSI completes its 44th R.I.S.E. home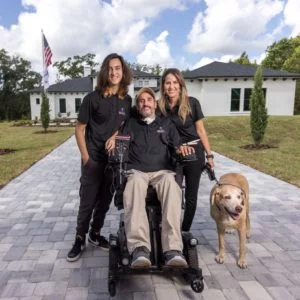 Oberlin, Ohio – The Natural Stone Institute (NSI) provided natural stone and fabrication services for its 44th home with the Gary Sinise Foundation through its Restoring Independence Supporting Empowerment (RISE) program. The foundation's RISE program builds 100% mortgage-free, custom-designed smart homes for critically injured veterans and first responders. Natural stone and fabrication for US Army Chief Warrant Officer 3 Romulo "Romy" Camargo and his family's RISE home were supplied by The Granite Place, Concept Elite Enterprises and Northern Stone Supply.
Camargo enlisted in the United States Army at the age of 19. While serving as a non-commissioned officer, he was second in command of his ODA (Operational Detachment Alpha) and conducted combat operations in western and eastern Afghanistan. In September 2008, as part of a humanitarian mission in Meydan Kalay, north of the Chalakor Valley, his detachment was ambushed during a combat operation. Camargo was seriously injured after suffering a gunshot wound to the neck that left him paralyzed from the neck down. He was medically flown to Bagram Airport and once stabilized he was moved to Landstuhl, Germany before returning home and placed at Walter Reed National Military Medical Center. While he was with Walter Reed, doctors determined that his C3 vertebrae had been crushed and had to be removed. His breathing was on a ventilator and he was paralyzed from the shoulders down.
In June 2015, Camargo and his wife Gaby established Stay in Step Spinal Cord Injury Recovery Center, located in Tampa, Florida, to help returning servicemen and veterans with spinal cord injuries and neurological conditions that cause paralysis. They shared that their ambitions are to build a new pilot center complete with an underwater treadmill, basketball court, cafeteria, nursery and family room.